Sack Bush
The Bagged Statue Experiment
Published May 2003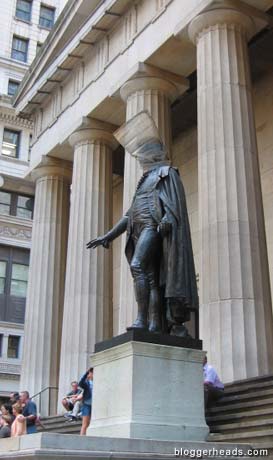 Background:
– The first images to emerge.
– Washington Post – new images.
– Some proof that the US and Britain were warned about this 9 months ago.
Objective: To communicate the gravity of the current situation in Iraq and remind people how close to home the responsibility lies.
Method 1:
– Find a statue in a public place
– Put a bag or sack over its head

Method 2:
– Put a sack over your head and stand in a public place*.
(But take someone else along to keep an eye out for you; you don't want to get sucker-punched by a neo-con.)
That's it. To tell others about this, simply link to this page on your own website or in any relevant online community ('copy and paste' link tools appear below the hints and tips).
Hints and Tips:
– If you can't get a bag or sack, use a pillowcase.
– The best time to strike is late at night or early morning.
– Stitch or attach a loose hook or loop to the top of your bag and then thread two arced sections of coat-hanger wire into the lining around the opening to provide some weight and hold it open. This will allow you to use a long pole to place your bag over the head of many a tall statue.
– Leave nothing but the bag and the baggage that goes with it. This message should be clear enough on its own.
UPDATE – Here's a picture of my first bagging and here's the story of a lad who was arrested for daring to stand in one place with a bag on his head. There are some comments on this story in this DailyKos thread.
If you have any further hints and tips or wish to send in a photo/report of a bagged statue, use this email address: manic AT bloggerheads DOT com
Linkage Bits:
Copy and paste the code below to make a graphic link like this one:
[NOTE – code snipped for archive]
Copy and paste the code below to make a text link like this one:
Sack Bush – The Bagged Statue Experiment
[NOTE – code snipped for archive]