Contact Tim Yeo by telephone or email:
House of Commons: 020 7219 6366 - Constituency: 01473 823435
Email: timyeomp@parliament.uk or yeot@parliament.uk
Click here to visit the Tim Yeo weblog.
Click here to find out more about our original campaign.
The campaign to get Tony Blair online with a publicly accessible email address (just like every other world leader) had been going for over 8 months when Conservative MP Tim Yeo suddenly took it upon himself to hijack the campaign for his own personal gain.
Bloggerheads campaigned ruthlessly online. For months on end. We emailed, we faxed, we called. We hassled the people directly responsible for delivering this service. We drew up specifications to help make the service a reality. We had questions asked in parliament.
Email that was erroneously sent to the fake address (created years ago) was, instead of being forwarded to Tony Blair's constituency office as requested, instead deleted on a day-by-day basis. We then auctioned off the chance to delete all of this email in one go (there was over 8MB of the stuff).
Still nothing. So, we started making naked pictures of Tony Blair in protest and publishing them online. Then we started publishing naughty pictures of Cherie.
Then we started replying to - and publishing - emails coming into the fake address (and sending 'autographed' nudes of the PM to a few fans of the PM who gave us a street address in their email).
We published an email-to-fax address that takes an email message and spits it out on the fax machine in Tony Blair's communications office. This email-to-fax-address (kindly provided by clever cookie Kevin Marks) was featured prominently on the series of pages covering the campaign - pages that still get the top result for pretty much every search query relating to Tony Blair's email address in AOL, Google and Yahoo! One can only imagine how hot that machine is running and how much paper it goes through every day.
This is the address, just in case you wish to use it. Yes, it works (but not on some open-to-abuse services such as Hotmail). Downing Street requests that you include your full name and address with any correspondence, etc.
Finally, we got in touch with Cherie Blair, who - in spite of our cheekiness - kindly offered to help us out by applying a little muscle in the kitchen at home.
And what did Tim Yeo do?
He set up a lame stunt with a bloody Hotmail address (rthontonyblairmp@hotmail.com), took full credit for 'uncovering' Tony Blair's failure on this front and milked the issue for name-checks:
The Guardian - 11th June 2003
The Register - 11th June 2003
Conservatives website - 11th June 2003
The Guardian (again) - 19th June 2003
An email was sent to Tim Yeo asking for credit where credit was due. There was no reply. A follow-up email the next week also went begging.
Yes, you've read that right. The man hassling the PM about his email can't even be bothered to answer his own bloody email!
He doesn't even have is own website (but a weblog has been created to help matters along).
Tim Yeo wants to be part of this campaign? Well, that's just fine. Our sense of justice and irony demands that we comply in the following manner:
The Tim Yeo Nude Image Gallery
This gallery will grow on a regular basis until we see some recognition - and an apology - on the Conservatives website and in at least one major newspaper.


Tim Yeo Nude #1 - "Good Old-Fashioned Values"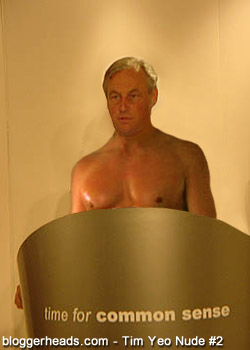 Tim Yeo Nude #2 - "Modesty Above All"
UPDATE (20th June) - In a jolly stroke of justice, the rthontonyblairmp@hotmail.com account has today been terminated for violation of Hotmail terms and conditions.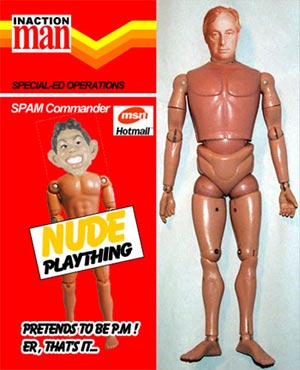 Inaction Man! The early model is now a collector's item, as it came with a free Hotmail address. Latest models of Inaction Man no longer have this minor accessory. This, our first gallery submission, comes from someone else who doesn't have his own site (yet), Mr Joe Smith. He requests that we direct the credit link to his friend, the lovely Andrea.


Tim Yeo Nude #3 - "The Afterglow of Power"


Tim Yeo Nude #4 - "The Wages Of Sin"
UPDATE (1st July) - Tim Yeo, the day after we asked him nicely to table a question on this matter, actually tabled a question and yesterday got an answer. He didn't email us back and let us know he was going to do it and/or acknowledge our input in any way, shape or form, but at least he's doing something useful instead of fart-arsing about with a lame Hotmail address.


Tim Yeo Nude #5 - "Conservative Beefcake"
FINAL UPDATE (3rd July) - These images are all over the place in Westminster, but Tim's still pretending that they don't exist. Oh well. This matter will now be addressed primarily through the Tim Yeo Weblog.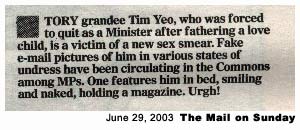 Back to 'Can Weblogs...?' for further results and updates.
Click here for the Backing Blair campaign!