Click here to review Phase 1 or Phase 2

Throughout this campaign, Google has been doing its job. It has listened to the concern of this site, and the support that's been shown it, and has rewarded us with relevant high search results. This isn't Googlebombing; it's a genuine manifestation of information-sharing and people power.
For anybody searching for Tony Blair's email address, these pages contain the most important information you need to know... it doesn't exist. Yet.
So now we come to the third - and hopefully, final - phase of this project. Rather than relying on a half-baked election promise or even a statement from 10 Downing Street, we've secured a genuine record of commitment to action.
Sue Doughty, my local MP, really came through and tabled a parliamentary question on the matter:
Monday 4th November 2002
Sue Doughty: 'To ask the Prime Minister, what email address members of the public may use to contact him.'
Wednesday 6th November 2002
The Prime Minister: 'At present there is no e-mail address by which members of the public can contact me. However an address will be made available in the new year.'
Good for Sue - but she knows as well as I do that we need to keep the pressure up. 'In the new year' could mean anything from early January to late next December. This is a leader that needs to listen to us more. Now. This is a time when his actions will have an effect on lives in all of our communities and many other countries. Often immediately. A letter just doesn't cut it in such cases.
This simple facility is also long overdue. Every other democratically elected leader in the developed world has a publicly accessible email address, so why not Tony Blair? He promised to sort it out 18 months ago and the only thing that has changed since is that the webmaster's address has been removed from his 'contact' page (obviously due to people using this as a default address for Tony).
It's this history of inaction, (combined with the immediate need), that forces us to highlight the need for haste in as compelling a manner as possible. So, I'm going to delete all of Tony Blair's email. Or rather, you are.
That's right, folks - the winning bidder of this ebay auction will have the opportunity to delete close to 500 emails sent to Tony Blair. Letters of support - and criticism - from the humble voters of this country. Urgent pleas from immigrants, victims of crime and victims of war - it's all got to go. That's over 8MB of email up for deletion, folks - and you could be pushing the button!
(Where these emails came from and why we ended up with them is explained in great detail at Tony Blair - Phase One, just in case this is the first you've heard of it.)
The winner of this auction will be treated to a hearty lunch and a pint or two of lager in merry old London, England. The winner and I will then head to a quiet Internet Café nearby, share a few laughs over a cappuccino, and login for deletion.
Remember! This is London we're talking about, folks. The winner will be expected to make their own travel arrangements, so if you live a long way away, please don't bid if you can't afford the bus/train/plane fare.
The winner of this auction is expected to make their payment via a personal, business or bank cheque made out to 'Oxfam'. This cheque amount will then be donated to Oxfam to aid their Ethiopia Appeal.
Yes, it is happening again, yadda yadda yadda - but what's coming now is going to make last time look like a summer picnic (with piles of cake and lashings of ginger beer). Millions of people are going to die. Millions. It's enough to put you off your chicken sarnie. I wanted to highlight this with the usual heartrending picture of a starving sproglet, but I know I've already stretched you to the limit, so I've made a small modification on this one to cheer it up a bit.
Hooray for starving babies. Like most actors, singers and models, they appear everywhere and look like they could do with a really good meal.

Oh, right. The point...

The winner of this auction may be asked to partake in some level of publicity to help further our cause. The level and nature of this publicity will depend on the personal comfort zone of the winner. You may stay anonymous if you wish, but please be aware that you will be asked to help out. Nicely, of course.

Finally, after deleting Tony Blair's email, the winner of this auction will be presented with a framed certificate, suitable for display in the home, office or lavatory of their choice.

That's some pretty good motivation there people, so I expect bidding to be brisk. Put your money where your mouth is - or, to borrow a phrase from a scruffy chap who won't return my emails - 'Just send us the f**king money!'

If you're too poor to put in a decent bid, you might instead wish to send a link to this page to slightly wealthier friends or link to it from your own site/weblog by cutting and pasting the following into your HTML:


UPDATE (21st December 2002) - The right to delete Tony Blair's email went for the bargain price of £62. Deletion is scheduled for late January.


UPDATE (6th February 2003) - Well, it's been a long uphill struggle and the finish line looks to be some way away, but yesterday was a highlight in our campaign to get Tony Blair to deliver on his years-old promise of a publicly accessible email address.

Marcus Stafford was the winner of our ebay auction, and secured the right to delete over 8Mb of email addressed to and intended for Prime Minister Tony Blair for the bargain price of £62.

Due to a mixture of confusion and generosity, the cheque made out to Oxfam was actually bumped up to £65, so hooray for Marcus.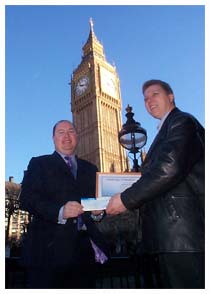 Our day began with a rendezvous outside - and a tour inside - the Houses of Parliament. There I discovered that the Speaker's Chair in the House of Commons doubles as a commode and the funky gilt-edged boxes on the centre table are a gift from New Zealand. All very interesting.
After refreshing ourselves with tea and coffee (courtesy of our most excellent host, Tom Watson), we posed for the necessary cheque/certificate exchange photo-op. I was very quick to get the certificate back after this photo was taken, by the way. There's a right and a wrong way to do things, and deletion had to precede actual presentation.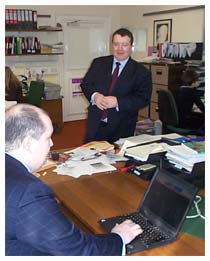 Off we went to Tom's office.
We logged into my another.com account and prepared ourselves for the decisive stroke, but I have to admit that some time was spent casually browsing through the doomed emails (my favourite was from an outraged Canadian who spelled 'Iraq' with a 'k').
After the foreplay, we dropped into 'my folders' and prepared to delete the entire TONY folder. Ongoing deletions late last year had reduced the bulk somewhat and the number of emails coming in to this address has decreased greatly since we went public, but there were still 629 emails lurking in there.
My another.com account allows for 10Mb of storage. Tony Blair's email amounted to a whopping 9.1Mb in total. Needless to say, I was quite looking forward to this, if only to enjoy the much-needed elbow-room.
Marcus ticked the folder, and clicked the 'DELETE' button. We were only one confirmation page away from nirvana.
Did we really want to delete the folder 'TONY' and all of its contents?
Yes, we did.
Did I enjoy an enormous sense of satisfaction (and relief) when Marcus clicked the 'OK' button, dumping the lot into a deep, dark hole from where it shall never return?
Yes, I did.
Have 10 Downing St come back to me yet regarding the delivery date for the real email service?
No, they haven't.
Further updates can be found at Tony Blair's Email - Phase 4.

Back to 'Can Weblogs...?' for further results and updates.
Click here for the Backing Blair campaign!