Click here to review Phase 1, Phase 2, Phase 3, or Part 1 of the Porn Gallery

On Monday the 23rd of January 2003, a 7-day amnesty began that was intended to give the PM's office a fair chance to answer one very important question: "When will the email service be ready?"
Also, as the last thing we heard was that they were still talking about how it might be done, I took the liberty of publishing some specifications to help them along.
On Tuesday the 24th of January, to show Tony - amnesty or not - that we weren't messing around, I popped along to join the anti-war crowd in their mass lobby of MPs (armed with a few placards that featured one of our earlier soft-porn images).
That image was subsequently seen in several newspapers (local and worldwide) and on several television stations (including Channel 4, ITV, BBC1, BBC News 24 and CNN).
Word of the Blair Porn Project also reached The Sydney Morning Herald, where they are following efforts to sort out John Howard's email address.
So far, so good.
I'd been in touch with Tony's office earlier, alerted them to the new campaign, and even provided them with my home phone number. All they had to do was get back to me with a delivery date, and the Blair Porn Project would stop.
Mr Tom Watson, the right honourable member for West Bromwich East, was even kind enough to table a parliamentary question, asking that all-important question: "When?"
(I should note for the record that Tom Watson does not endorse the production of political pornography, he simply agrees with us on the small matter of accessibility.)
I was expecting an answer of some kind by Friday. I was not expecting this:
Tuesday 21st January 2003
Mr Watson: 'To ask the Prime Minister when his e-mail address will be established for members of the public to contact him online.'
Wednesday 22nd January 2003
The Prime Minister: 'I refer the hon. Member to the answer I gave the hon. Member for Guildford (Sue Doughty) on 6 November 2002.'
That's not an answer; that's a repeat of the 'in the new year' cop-out from nearly 3 months ago!!!
War is due to break out in the next few weeks. People from around the world need to be able to voice their concerns now.
Now!
So, it is with great regret that I must announce a premature end to the 7-day amnesty.
Porn production begins afresh today, and I'm no longer in the mood to be nice about it. Additionally, if you wish to email Tony Blair right now, you can do so by sending a plain-text message to this email-to-facsimile service (that will transmit the body of your message and spit it out on his fax machine). Yes, it works - I tested it myself.
Downing Street requests, as ever, that you include your full name and address with any correspondence. That way, at least you might get an answer.
The Image Gallery (2)
Tony Blair, making one thing perfectly clear...
Well, we did warn him that we'd start on the missus sooner or later. Do you really want to see what's underneath? No, I didn't think so. Fax the PM today (see link above) and stop this insanity!
Today we further explore the special relationship between western leaders. The chap on the left who looks like he fell off the Mr Sheen can is John Howard (the Australian PM and willing partner in the upcoming oil grab).
We gave our readers three days to vote on whether or not we should keep up with the Cherie Porn. The majority begged us to continue, and judging by this result I really can't blame them.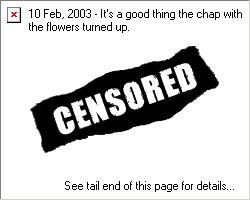 We gave Downing St more than a fair chance to get back to us with a delivery date, so it's back to Cherie we go. Who can ever forget that morning after the election?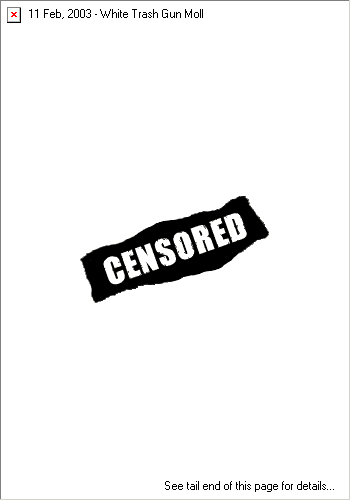 I call this one 'White Trash Gun Moll' and consider it to be my finest work of art to date.
Many requests have come in for a large B&W version of the Bush/Blair pic for use on protest placards and what not. Fair enough. Here it is.
This gallery will continue to grow until we hear from someone in charge. That is all.
CENSORSHIP UPDATE
The bulk of these images have been censored voluntarily after some very pleasant correspondence with Cherie Blair. She's been an excellent sport about it all, and has even offered to help us out. Hooray for Cherie!
We offered to remove the images as a courtesy once Tony had (finally) seen the campaign, but Cherie is of the opinion that Tony will respond better without the pornography.
Right now my mother is sitting at home saying 'I told you so,' but the fact remains that this leg of the campaign was the most successful in raising public awareness. Until we achieved the breakthrough with Cherie, this was the only card we had left to play.
We'll be back soon with what we hope is the final update.
ALMOST FINAL UPDATE
I've finally had the chance to speak to someone senior on the Web Team at Downing St. He's quite a reasonable chap, but while he recognises the degree of urgency, he isn't able to give us that long sought-after delivery date. Still, delivery of this facility has been promised 'very soon,' and I'll be alerted by email the moment it goes live. An announcement will follow here and at the main blog, but if you're not a regular visitor and/or wish to hear about this the moment it happens, just drop me a line.
YOU WON'T BELIEVE THIS'UN!
Our long-running campaign has been hijacked by a Tory MP with a Hotmail address! Find out more.
AUGUST DELIVERY DATE ANNOUNCED
Tim Yeo may be an asshat and a hypocrite, but he has done something for the cause. A question he tabled has drawn the long-expected delivery date from No. 10 (mind you, he only tabled the question the day after we asked him to get off his arse and do so). August is the promise - here's hoping they hold to that. Once the facility (finally) goes live, Bloggerheads will switch its focus to the visibility and usability of this long-overdue service.
FINAL UPDATE
Victory at last! You can now send email to Tony Blair via this web page.
Oh, and we don't need to worry so much about visibility and usability. The cheeky beggars Tony put in charge of this copied my specifications (almost) to the letter. So I invoiced them. Without joy, sadly. The communications and IT department at 10 Downing St (again) have decided to pretend that I don't exist.
Back to 'Can Weblogs...?' for further results and updates.
Click here for the Backing Blair campaign!