The Cautionary Campfire Songbook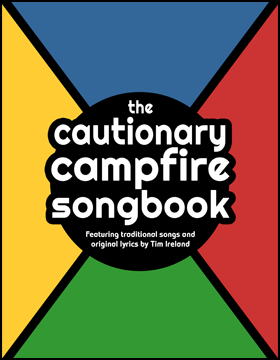 I've been singing campfire songs since I was 7, and writing my own lyrics since I was about 12. It wasn't until long after I was an adult that I realised how many campfire songs are trying to teach us something.
Campfire songs are your classic 'under the radar' educational tool. They allow young people to engage in controlled explosions of naughtiness while simultaneously learning some important lessons about life. When I finally noticed this, I started editing and writing songs again… this time in my role as a volunteer with young people.
Soon after that, I began to write educational campfire songs specifically about The Internets, and soon after that, I decided to bring those messages to The Internets, where they would do the most good.
The result is The Cautionary Campfire Songbook (Amazon (UK)
| Amazon (US)
), and the associated album produced in conjunction with Koit: Cautionary Campfire Songs (Amazon
| Google Play | iTunes)
Songs range from wholly traditional and untouched songs, to partially edited/modernised versions, and a bunch of entirely original lyrics, many of which are about The Internets. Lessons range from simple undergarment hygiene to online safety & etiquette.
With luck, the little darlings won't notice that they've learned anything until it's far too late.
(Buy it now from Amazon (UK)
| Buy it now from Amazon (US)
)
All of the songs about Teh Internets appear on the CD/album, and each has their own music video on Teh YouTubes. Below is an array of music videos published so far. Enjoy:
–