This page first published in August 2004, last update July 2017
In early 2003, The Sun's (now defunct) Page 3 became the home of a regular feature titled 'News in Briefs'; a short editorial in the name of whoever was showing their tits that day.
Yes, really.
Hang on, let me show you an example from 3rd February 2004: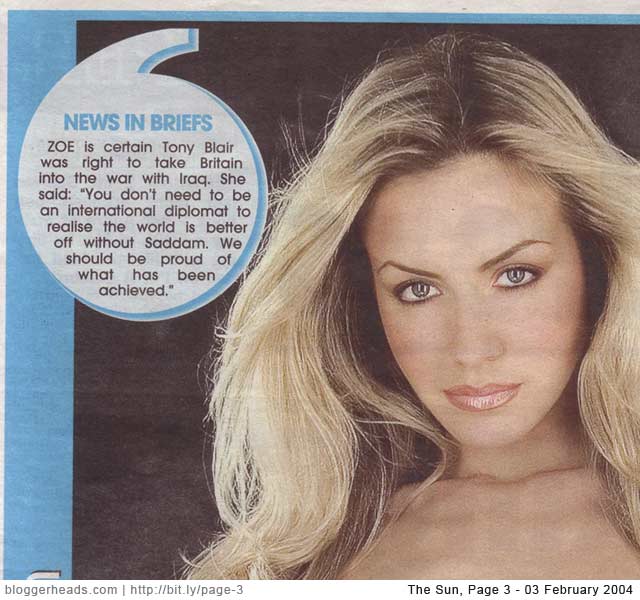 Yes, really.
As you can see, these editorials were enclosed in a stylised inverted apostrophe that was reminiscent of a comic-book 'speech balloon', often placed near or above the model's head, adding to the message that readers were witness to the immediate and true voice of the model in question.
By late 2003, these editorials were increasingly political, and often deeply so. Most of the politics involved was domestic (and notably insular), and very little was said about world affairs, unless it was on the subject of war and/or terrorism.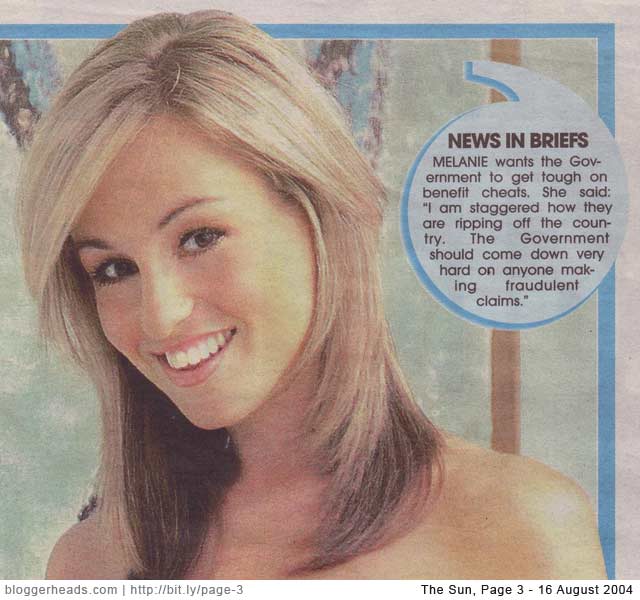 Page 3 continued in this vein throughout the editorship of Rebekah Wade/Brooks.
A dedicated page outlining my concerns about the politicisation of Page 3 has existed on this page on Bloggerheads since August 2004, and I am proud to say that I actively campaigned against the practice. When Dominic Mohan took over as editor in late 2009, 'News in Briefs' descended into a pathetic attempt at self-parody that clung to Page 3 like the stench of its approaching death (example). 'News in Briefs' was retired in June 2013 when David Dinsmore took over, and Page 3 later died in humiliating ignominy on his watch (January 2015).
It was only under Rebekah Wade/Brooks that models on Page 3 appeared next to what appeared to be strong and sincerely-held political opinions (often in support of that day's main editorial), and I have now released a book featuring all of the very best ones:

Buy it now from Amazon UK or Amazon US
There's also a lot of material available online from the blogging process that eventually led to the book, and you're welcome to explore it:
I first blogged about 'News in Briefs' in January 2004 (1, 2), right before the key moment when The Sun turned viciously on Clare Short after she dared to speak critically of Page 3, something that Rebekah Wade/Brooks had just spent months weaponising (more), and I had this to say about their use of Page 3 as a political weapon at the time:
I support a woman's right to strip for the camera. Shock, horror… I personally enjoy looking at naked flesh from time to time. But I still object to this kind of material saturating the mainstream, and I have a biiiig problem with the hypocrisy of a 'conservative' paper (that still can't bring itself to print the word 'fuck') using soft-porn as a springboard for their right-wing garbage and outright lies. But of course I'm only saying all of this because I'm fat and ugly. And I don't have any tits.
–
(source)
I kept close track of the editorials on Page 3 from that day on, and when doing research on Rebekah Wade's wider conduct as editor, I even treated myself to a few microfilm reels of Page 3 that I'd missed, just so my collection was complete.
Some 2004 material is less accessible because I changed my archive format at the start of 2005, but you can read through most of my contemporary articles about the issue by browsing through this category on my blog).
In late 2009, I further sought to highlight and summarise the issue in a music video containing as many examples as possible:
Page 3 :: Girls + Words from Tim Ireland | bloggerheads on Vimeo.
In May 2011, I released a video based on a short lecture I was delivering at public events, complete with slides:
Page 3: Propaganda [sfw] from Tim Ireland | bloggerheads on Vimeo.
But don't let any of that distract you from my lovely, lovely book that I worked so very hard on. It includes many examples that are unavailable outside of a newspaper library, and it also serves as a potted history of politics in noughties Britain:

Buy it now from Amazon UK or Amazon US
Cheers, all!
Tim
–