This entry was posted on
Thursday, January 26th, 2012 at
8:58 am and is filed
under Old Media, Rupert 'The Evil One' Murdoch.
"Sometimes, Robin, being certain is merely being wrong at the top of your voice." – Batman
It was almost 6 months ago that I first wrote about my concerns about the behaviour of News of the World in the weeks after the disappearance of Milly Dowler. At the time, I also expressed some concern about the subsequent response to News of the World by Surrey Police. Since then, more information has come to light. It is not comforting on either front.
With the publication of this letter especially, it is now clear that police were misrepresented to a great degree in the 14 April 2002 article analysed in this post, not least because the News of the World all-too-readily gave the appearance of speaking on behalf of police, both in print and during their pursuit of tabloid fodder (even to the extent of claiming to be working in conjunction with the police when interrogating members of the public).
This does not put Surrey Police in the clear. Far from it.
1.
As far back as 13 April 2002, Surrey Police were aware that News of the World had accessed Milly Dowler's voice messages. Police report in this letter that they were told quite bluntly by one of the reporters involved that "NOTW had got Milly's phone number and PIN from school children". To this date there is no indication that any kind of investigation took place. Surrey Police, in their 17 Jan 2012 letter, skip from mentioning the extensive investigation into Milly Dowler's disappearance to saying; "Surrey Police did not arrest or charge anyone in relation to accessing Milly Dowler's voicemail"
I will return to this point toward the end of this post.
(Oh, and you will probably want to keep this same point in mind for a later post that I dare not even hint at right now. If you're a long-time reader, you will totally plotz.)
2.
This recently-released letter details correspondence where the police suspected the involvement of a hoaxer in a recruitment company's phone call to Milly Dowler's mobile phone more than a week after she had gone missing. By all indications, police couched their phrases accordingly. For example, in a core statement, Surrey Police said there was "the possibility that a hoaxer might have been involved."
Now watch that suspicion portrayed as rock-solid belief in the resulting article (14 April 2002):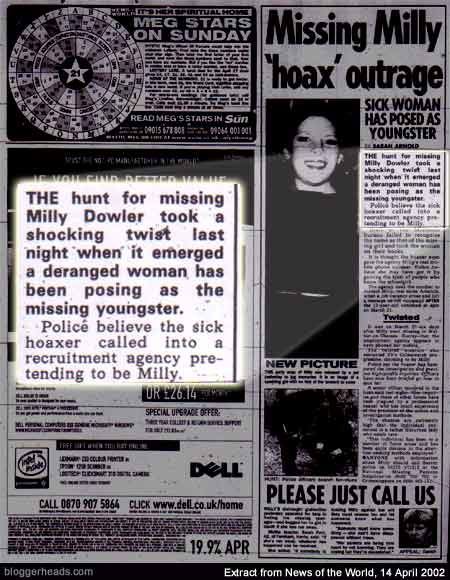 3.
Within a week, Surrey Police had determined that the hoaxer plaguing their investigation was not involved in any approach to the relevant recruitment agency as described by News of the World. Neither was the mysterious phone message anything to do with Milly Dowler herself, or anyone who knew her; it was just an unfortunate coincidence. But News of the World would not listen. By this stage (20 April), they were "110% certain" that 13-year-old Milly Dowler had run away from home and was out looking for work on the other side of the country:
A day later (21 April 2002), News of the World published extracts from the personal diary of a 13-year-old friend of Milly Dowler (who should NOT be assumed to be the source of any phone details, and should NOT carry any guilt/blame for trusting these tabloid scumbags in any instance). Note how News of the World give the impression that they are revealing this intimate detail at the behest of police detectives. The opening paragraphs even risk giving the impression that access to this diary was offered/granted to News of the World by those same unnamed police detectives.
Also note that they spare a final inch to have an oh-so-subtle shot at Surrey Police. Keep in mind here that News of the World were at this stage "110% certain" that the police were looking in the wrong place for Milly Dowler, who they believed to be looking for work up north… when she had by this stage been dead for near to a month: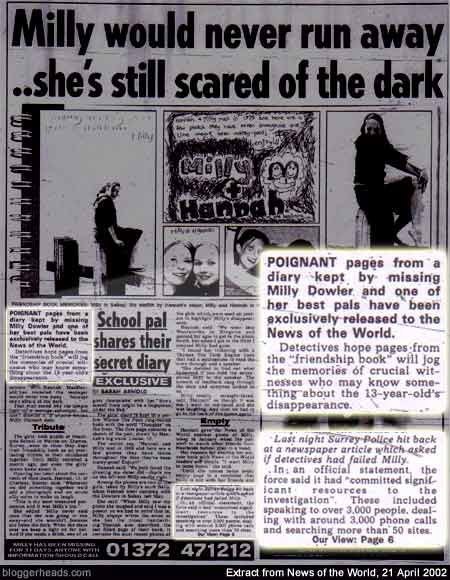 Let's add to this that the line of questioning they aimed at a 13-year-old girl is bloody obvious. This vulnerable child is saying her friend would not run away because some sod from a tabloid has been asking if she's really, really sure about that. The scope and cost of the arrogance of News of the World is breathtaking.
On that note, here's the editorial from that issue (21 April 2002). The editor makes a point of mentioning the possibility that Milly Dowler simply ran away. Based on what?
It is also worth mentioning that News of the World suffer here from that peculiar tabloid ailment of being quite unable to admit error or fault. There is no mention on 21 April 2002 of their being entirely wrong about the recruitment agency story a week earlier.
4.
In fact, a week later (28 April 2002), they use the arrest of the hoaxer to give the impression that they were right about the recruitment agency/call article all along. The mention of phone calls in this passage adds to this illusion. I can assure you that in my experience this is quite common, and usually quite deliberate. I even know tabloid-style bloggers who behave in this way. I don't like them very much:
Also note that once again the oh-so-superior News of the World have taken the time to have a shot at Surrey Police, portraying them as slow to respond if not incompetent. In their view, detectives were wasting their time on kidnap/homicide-oriented nonsense. News of the World were "110% certain" that 13-year-old Milly Dowler was alive and well and seeking work.
5.
Where Surrey Police do deserve criticism is in their inexplicable willingness to be repeatedly treated as Rebekah Wade's bitch.
And finally…
6.
I would very much like to hear a response from Sussex Police. I'd like to know more about the "routine review" of the Milly Dowler investigation described here and what it entailed. I would particularly like to know why Sussex Police failed to call Surrey Police to account for failing to call News of the World to account. I'm only a layman, but I rather got the impression that such reviews were meant to be some form of quality control beyond the influence of locals and any associated bias.
–