This entry was posted on
Saturday, March 22nd, 2003 at
11:04 pm and is filed
under Photos, Uncategorized.
It should be noted from the outset that, apart from the Mass Lobby of Parliament on the 24th of January and the Million-Strong March on the 15th of February, I haven't really marched for anything since I was about 14 years old.
But, while I may not be a professional activist or one of the 'usual suspects,' I'd like to think that I made a valid contribution to the march beyond adding one more head to the count.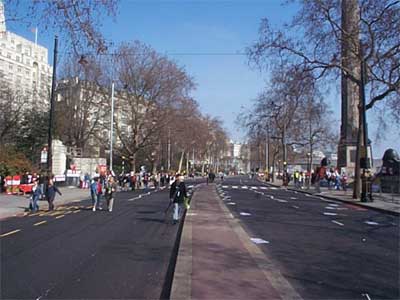 Things started out looking very bleak indeed. At the million-strong march, this road was packed with people all the way back to the bridge by 11:00am. This photo of the same road at the most recent march was taken at 11:30am. I also noted with sadness that The Mirror had failed to supply placards for this event. These were the placards that most people vandalised in an effort to remove the untoward branding, and great numbers of them had been altered beyond repair very early in the day on the previous march. I'd come armed with duct tape, some spray-adhesive, a beefy staple gun, and hundreds on non-branded messages on A3 paper to rejuvenate such placards, but I didn't see it as my right to remodel the placards of movements such as the CND, the Communist Party and what not en masse (these were lying around ready for use in great numbers). While I may not agree with everything these groups stand for, what they stand for cannot not be dismissed as easily and readily as the philosophy of 'sell more newspapers.' At least, not by little old me.
So, to kill time, I started out by placing a few signs (outlining a certain plan for civil disobedience) in high traffic areas that led to the assembly area. You can read the full text that appeared on these signs by clicking here.
Pretty much everything at the assembly point was covered, from phoneboxes and road signs through to the mirrors in the toilets and even the wobbly bridge.
Just as the march was starting, I approached a few folks with large placards that were blank on the reverse side and placed a few extra images on them with their permission. By the third time I'd done this, I was surprised by a sudden rush of people wanting the same treatment for a variety of placards. The most popular choice by far was the Bush/Blair pic, as seen here.
I was damned busy for about 10 minutes before I ran out of signs – too busy to take photos, in fact – but I did manage to catch up with a few folks who had adopted them, and once I had one or two of these shots in the can I quietly got on with the serious business of marching.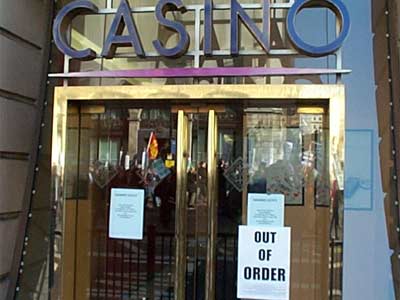 Of course, there were quite a few businesses and amenities along the route that were closed down, boarded up or out of use. Such facilities were correctly labelled wherever possible.
This included the statue of Achilles at the entrance to Hyde Park (seen here fighting off one of those damned pigeons), but signage took on a fresh twist once the rally had started.
Here we move into an area that can only be described and conceptual art/wank. Armed with a staple gun, some plastic sheeting, duct tape and a lot of discarded placards, I began to build my own terror shelter.
A number of people watched me build over the hour or so that followed, which meant that my wanky installation had fulfilled its first purpose; to prove how easy it is to distract people with some duct tape and a few yards of plastic. The final touch was the 'out of order' sign. The point of this being?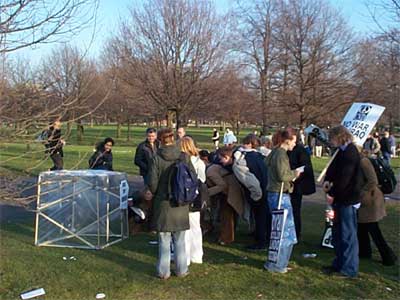 Well, I would like to think that its pretty obvious. The shelter was soon surrounded by spectators, and delivering its message nicely. I left it to its job and headed over to the U.S. embassy in the hope that it would be inundated with protesters and therefore in need of an 'out of order' sign.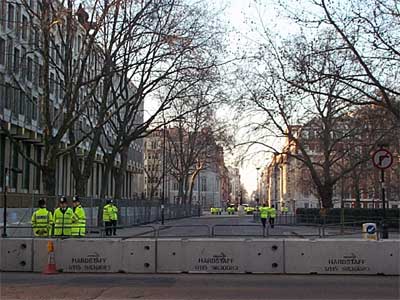 I was quite surprised to find it this quiet. Probably something to do with the (ahem) modest police presence.
I headed towards Oxford St, where I could see police blocking the road in even greater numbers. I met these chappies on their way back from what I assumed to be an effective redirection of the crowd.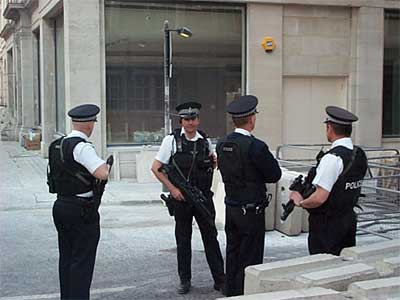 These nice blokes were also on hand to discourage any unruly behaviour.
The protestors headed for the embassy had decided to take their stand where they were – by sitting down. Oxford St had suddenly become a pedestrian mall for peace, and the line of buses went back 6 blocks. I sat down and joined the protest.
The police moved in with a row of vans and an aggressive cordon. Sorry, but there's no other way to put it. They came at us in a line – too fast at some times – causing a very unhealthy crush, and pushing people over trash cans and benches in the name of public safety (to cries of 'shame' from the protesters and onlookers).
Here's a photo of the nice chap who moved me along. Things got interesting after this.
The Met's methods met with limited success, as the protesters simply fell back where possible to form a new line. Of course, this was fine as far as the police were concerned. All they had to do was keep us busy so nobody got the bright idea of taking a quick walk one block south to the U.S. embassy.
It occurred to me that somebody could mention this to the crowd at any time and really shake things up, but having seen the aggressive way in which they merely kept us busy (and the huge presence waiting around the corner), I thought it best to keep my fool mouth shut.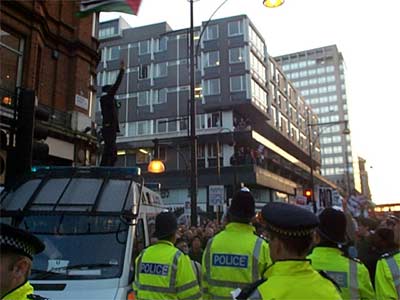 The police had pretty much guaranteed that London would be the only city in the world that day not to host a protest outside a U.S. embassy , but they really had this young lad to thank for it. By climbing on top of a police van, he gave them a great excuse not to move and provided the crowd with a welcome focus point.
As we obviously weren't going anywhere for a while, I took it upon myself to label a few buses caught up in the jam.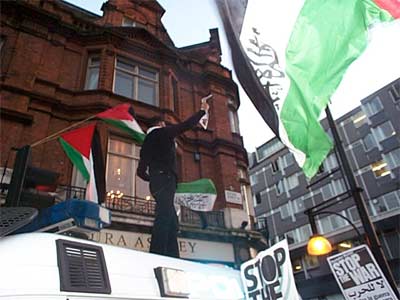 Then – and this really surprised me – a copy of my Bush/Blair pic came out of nowhere and was passed up to Vanboy. He threw it down, gave it a good stomping and then tore it up to enormous cheers. I rummaged though my bag and found that I had one more 'No Blood For Bush' sign left over and passed it up to the front. It got the same treatment. Some people have no respect for art.
BTW, this is the official police photographer who got a wonderful shot of me helping out. I figured one good turn deserved another.
From here I ran out of constructive things to do, so left the protest. Sure enough, the police were still waiting just around the corner. When I returned home, I heard that the riot police turned up not long after and things got rather ugly.
Hyde Park was pretty much empty by the time I got there, but I was still in time to check if my little art installation had survived the afternoon ahead of the cleanup.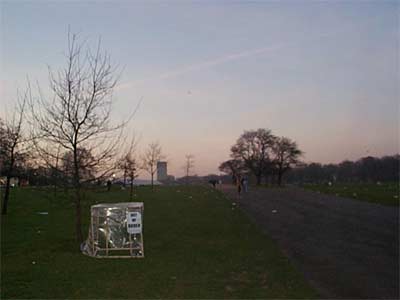 Yup, it was still there 3 hours later, and largely intact.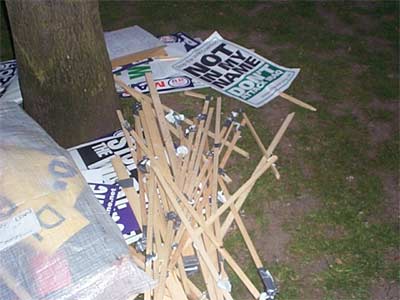 I packed it up and helped to clean up a bit, but did wonder how many people I actually reached. In fact, I wondered for most of the trip home…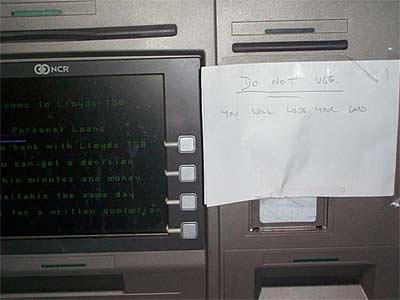 …until I arrived and saw this at the station. Score one for the team.