This entry was posted on
Monday, October 17th, 2005 at
3:48 pm and is filed
under Anne Milton.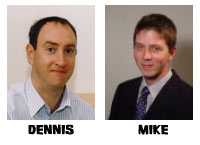 Outline
Meet Dennis Paul and Mike Chambers. They helped Anne Milton (MP for Guildford) to victory in the 2005 General Election, and they now appear to be campaigning in earnest for the Onslow Ward of Guildford Borough Council. They have answered the call and look forward to doing all kinds of neat stuff together.
Guildford was one of the top targets in the 2005 General Election, so Dennis and Mike are A-team players. I thought it might be educational for folks to see these two Top Guns in action as they go about the business of convincing an electorate that;
a) there's a job to be done
b) they're the men for the job
(Readers are reminded to not try at home without a third stooge present.)
Background
Mike Chambers – Campaign team member for Anne Milton who also appeared on her campaign literature, boldly and ingeniously posing as an ordinary member of the public by using a photo of himself in his youth. Former chairman (and website designer) of the University of Surrey Conservative Society. Also popular on the University of Surrey Student's Union discussion boards for providing bold commentary in support of Anne Milton and 'Conservative action'.
Dennis Paul – Promotes Anne Milton and Onslow Conservative Councillor Sheila Kirkland on his website. The disgraceful attachment of the 'racist' tag to his campaign literature was handled with statesman-like aplomb. He was also very popular on his own discussion page (currently withdrawn), on which he appeared to be the sole author.
Chris Ward – Editor of Barefacts, the official newspaper of the University of Surrey. Recently elected as Ethics & Equal Opportunities Officer on the University of Surrey Student's Union. Liberal Democrat campaigner (who campaigned for former Guildford MP Sue Doughty) and blogger. Obviously lacking in political experience, as he openly admits to political roles and allegiances when discussing matters… and will more often than not back this up by posting under his name (and his name alone) when discussing matters or expressing opinions online. I would regard Chris Ward to be a net-friend (we have shared many a slack-jawed moment following the adventures of Anne Milton and her associates), and I dedicate this post to him in the hope that he may one day learn how true professionals conduct themselves.
Tim Ireland – Your author. Independent blogger, observer and campaigner with deep but largely unreasonable fear of holding office. Verbal critic of Anne Milton and her campaign team. Descibed by Sandra Howard as a "deeply unpleasant man".
The Problem
The latest copy of Barefacts contains a half-page report on the good work of the Conservative Society on Page 19, but it also contains – on Page 1 – a note that the recently-elected MP for Guildford declined to meet her student electorate at a freshers' fayre after the election, when she seemed awfully keen to attend many a freshers' fayre before the election.
How does one combat such accusations when to address them directly involves admitting that Anne Milton declined many invitations from local groups during her diplomatic mission to Cyprus and Tierra del Fuego? Well, the front page also carries a report that; "The University of Surrey has been slammed in the results of the national student survey."
Bang. There's your answer, and the A-Team are on it like white on rice.
The Plan
On the front page of Dennis Paul's website (UPDATE – this has since been moved to a dedicated page) you'll find a blistering article identifying the clear threat to students – the obviously partisan and student-hating University of Surrey Student Union…
Dennis Paul: The attacks on the University of Surrey by the publication threaten to undermine those with a crucial stake in the Universities future… The Student Union would do better to get their own house in order and campaign (or take action) to clean up the University Campus blighted by litter and trash dumped every weekend by a minority of drunks following closing time at the Student Union bars.
According to his profile, Dennis Paul 'manages a range of Estate Services for a London Local Authority'… so knows his garbage. His concerns about the urban environment carry equal weight to ex-nurse Anne Milton's concerns about health.
Co-campaigner Mike Chambers is an ex-student of the University of Surrey, and a current member of the University of Surrey Conservative Society, so he's down with the kids. He's also up on the hip, new Broken Window theory.
Together, they approach the campus to show uppity students that they had best get their own house in order before criticising their betters.
The Execution
Big campaigns need big images. Do not make the mistake of resizing and compressing your images with photo-manipulation software. Instead, follow the example set by Dennis and Mike and upload them straight from your camera to the server. Then use HTML to resize them. Most people have broadband these days, so a few 350Kb+ images shouldn't present them with any difficulty.
The content of the images themselves itself is a far more complicated affair, and presents even greater difficulties. Like Dennis and Mike, you should – before attempting any such activity yourself – spend some time learning from a master.
The Art of Looking Concerned – Picture 1a (original):
"Dennis Paul with prospective MP Anne Milton expressing concern about A3 traffic noise."
Traffic noise is a hard target that many shy away from, particularly because it is very hard to grimace at the volume, put your fingers in your ears, show a look of concern and gesture toward the source of the noise at the same time. It can be achieved by sharing tasks between two participants (one can grimace at the volume and put their fingers in their ears while the other shows a look of concern and enjoys the free use of both hands to gesture toward the source of the noise and a now-visible sufferer) but here Dennis Paul and Anne Milton have come up with a unique solution.
The source of the noise is still clearly visible, but your attention is directed via a clear gesture toward an assessment. The existence of this assessment means that we are no longer reliant on the word of the two participants that traffic noise is at an unacceptable level. The secondary participant – by holding the assessment – is now a take-charge activist instead of a helpless victim. The primary participant can efficiently deliver a look of concern and gesture at the primary cause of concern; the assessment that the traffic noise is at an unacceptable level.
The Art of Looking Concerned – Picture 1b (original):
"Dennis Paul expresses concern over campus litter."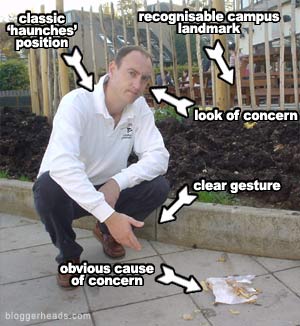 Litter; scourge of every modern society. Again, a hard target that requires bold visual action.
Dennis Paul (in this photo, the primary participant) has crouched down on his haunches. This classic pose allows him to be closer to the cause of concern (which is often found at ground level) and also convey a suggestion of surrounding danger. He has also ingeniously established the campus as his location by posing in front of an eating/drinking area. This is where many students take vital sustenance and discuss the latest pop bands, so there is a strong emotional attachment and they are more likely to recognise it as a landmark. It is also a place that one is likely to find litter, so there is no need to move litter to that location for a full-bodied conveyance of concern.
The brutal efficiency continues as the primary participant conveys an impressive sense of concern with his face as he gestures to the cause of concern with a single hand. This leaves his other hand free to maintain balance and drape casually in a way that suggests confidence in the presence of the aforementioned surrounding danger.
The Art of Looking Concerned – Picture 1c (original):
"Dennis Paul and Mike Chambers prepare to express concern over campus litter."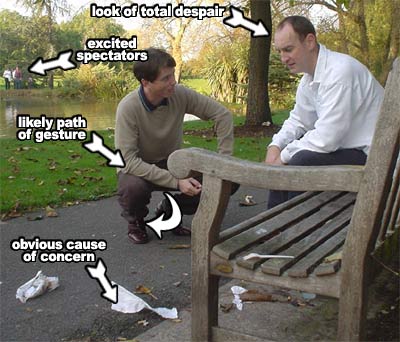 The most exciting thing about this image is its candid aspect. You can clearly see some spectators in the background (no doubt keen to see masters of local democracy in action). The image has also been caught just as Dennis Paul and Mike Chambers are mid-manoeuvre
Dennis, graciously playing the role of secondary participant, has clearly instructed Mike (here, the primary participant) in the correct use of the classic 'haunches' position, and has his look of total despair at its peak as his partner prepares to deliver a look of grim determination (note preparatory lip-wetting position of tongue) and gesture toward the cause of concern (note projected path of gesture).
By simply taking a picture few frames before the completion of the manoeuvre and leaving in the people in the background, they have provided a convincing and motivating tableau whilst also showing us their love for their art… and a strong level of public support!
It should also be noted that – in yet another efficient move that is typical of this team – the same bench/litter has been used twice in a way that convincingly portrays the very real problem of litter occurring in multiple locations.
The signal has been sent, but the message is not yet complete. Students must also know that they are dealing with men of action, who address matters of life and death with even stronger looks of concern…
The Art of Looking Concerned – Picture 1d (original):
"Dennis Paul looks concerned and (determined to do something about) overgrown plants obscuring traffic signs."
Here the cause for concern is 'overgrowth obscuring road signage'. The picture clearly shows the overgrowth, the sign and the level of obscurity, but watch Dennis for the true economy of this image.
It's a life or death issue, so the direction of the cause for concern is taken as a given. Instead Dennis uses his hands to enhance his look of concern with a classic 'beard-stroking' gesture, and place a hand on one hip in order to let you know that he is a confident man, determined to take action.
The Art of Looking Concerned – Picture 1e (original):
"Mike Chambers expresses concern about faulty lighting as Dennis Paul and Cllr Sheila Kirkland look determined to do something about it."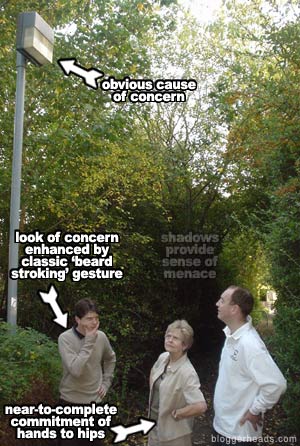 Here you can clearly see that Dennis Paul has passed on his knowledge to partner Mike Chambers, as the latter performs the devastatingly effective 'beard-stroker' solo, allowing Dennis and Conservative councillor for Onslow Sheila Kirkland to save themselves for a dual survey of the area, pointedly underlined by each of them using not one, but two hands on hips.
No directional gesture is necessary, as the clever use of shadow and Cllr Sheila Kirkland's look off-camera (to an unseen and therefore more potent cause of concern) clearly conveys a sense of darkness and foreboding.
Just one look at this image, and you know that – come hell or high water, by hook or crook – a lightbulb is about to be changed.
The Conclusion
This is clearly the work of professional, close-knit team with a knowledge-sharing ethos.
Students at the University of Surrey would do well to think twice before crossing them again, lest questions start getting asked about the connections between their garbage-strewn campus, open-all-hours liquor licencing and local problems with youth crime.
UPDATE [20 Oct] – It's full-on damage control! Dennis Paul has withdrawn the 'attack on students' articles (see comments) and made some cosmetic changes to the site that involve the removal of Anne Milton's image for some strange reason. Meanwhile, Mike Chambers has gone charging into the USSU message boards to defend himself, but not before (God help us) trying to be funny first. Students like Teh Funny, yes they do… those groovy, hip nutters. It should be noted for the record that this incursion is Mike Chambers' first post to the USSU messageboard for many a month. For some strange reason, Mike suddenly stopped posting there after this adventure.
UPDATE – He's still at it! I don't want to go charging in, especially as the boarders were so nice to me last time and they just want him to go away (if I butt in, he'll go on and on and on and on), so I'll say this here:
Mike, if you're a smart man, you'll know when to stop.