This entry was posted on
Thursday, September 7th, 2006 at
4:35 pm and is filed
under Tony 'King Blair.
[LATE UPDATE – It's the morning after and a lot of the evidence has been erased. As a result, some of these links (below) will be broken. This, to me, seems like odd behaviour from someone who insists that he has nothing to hide (see comments), but I can afford to let it go for now… because I have plenty of screengrabs (already published) and many pages saved to disk.]
The brand new site Keeping The Faith was brought to my attention this morning. It claims to represent "Labour members, activists, and voters backing Tony Blair against a minority of MPs who want to bring him down."
My curiosity was piqued when it became clear that – like many supporters of Tony Blair these days – the person behind this bold initiative chose to remain anonymous.
Well, sort of anonymous; the domain name keepingthefaith.org.uk was registered under the name David Taylor, but that's not how I found all the really fun stuff.
(Stick with me… I promise you excitement and adventure… and a few laughs along the way.)
When visiting the list of Tony Blair's achievements (which, for some strange reason, doesn't include 'Bringing democracy to Iraq') I noticed that the site was using frames and all of the relevant web pages were hosted via http://backdoor.taylord.fastmail.co.uk/…. which – apart from confirming the owner via the username 'taylord' – also provided a very revealing unrestricted directory: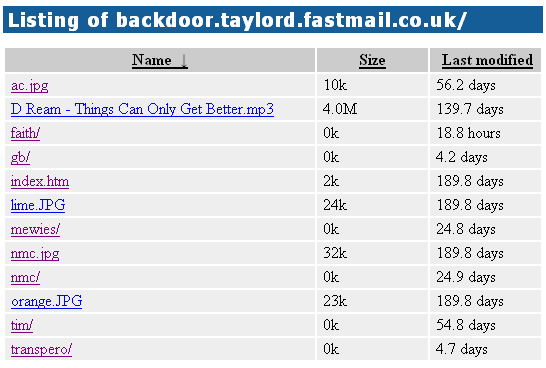 1. The frame-redirects and poor directory security suggest that we are dealing with a new media genius here.
2. The presence of a portrait of Alastair Campbell *and* an MP3 of Things Can Only Get Better in the core directory tells us that we are also dealing with a True Believer.
I clicked on 'index.htm' and was informed that the core presence part of something called the 'New Media Council' and this organisation offers "Your own website, built for you!"
The email address gave me the domain I should be looking for – newmediacouncil.com – and this directed me to the following site/message (contained in the folder 'nmc'):

"Hands-on strategic targeting helping hundreds of individuals and organizations in getting their message across!" Pretty impressive, huh? But wait… it's about to get better. Just look at some of the fine work done by NMC:
transpero.net
The folder 'transpero' led me to what appears to be an early incarnation of transpero.net, which is billed as "a site devoted to developing internet based resources for Labour Party members and supporters." The site is credited here as the work of Adrian McMenamin and the primary not-a-manifesto on the website is hosted at Adrian's weblog. Adrian McMenamin has been described by the Guardian as; "the classically hostile New Labour gatekeeper." He worked on a certain Hartlepool by-election that many of you will be familiar with, but the most fascinating aspect of his character is revealed in this article. Sock-puppets, anyone?
timcarter.org
The folder 'tim' led me to timcarter.org, the home of Tim Carter, "a former Labour Party media and communications manager" who – amusingly – offers 'web design' as one of his services.
shutthebackdoor.co.uk
In the 'tim' folder I found this tasty little GIF, which led me to shutthebackdoor.co.uk (a domain also registered in the name of David Taylor) which – even more amusingly – bills itself as "a non-party political group"…
sandymewies.com
The folder 'mewies' led me to the doubled-framed presence of "Delyn's local Assembly Member" Sandy Mewies at sandymewies.com
gordonbrown.org
OK, OK… you got me; I was going through these backwards for a reason.
The folder 'gb' led me to the lovely name-hijacking venture gordonbrown.org
Registered by Dave Taylor, hosted by Dave Taylor and no doubt run by Dave Taylor, this charming little effort seeks to publicise articles like this:
Gordon Brown's cronies stage coup against Tony Blair
Gordon Brown: Homophobic or too busy?
So, what we have here is:
1. David Taylor organising this positive website urging faith and hope (and presumably unity)… without having the balls to put his name to it.
2. David Taylor organising this negative website designed to slag off Gordon Brown… without having the balls to put his name to it.
(Note – This article about the poor design of his petition names David Taylor as the creator, but the writer of this piece had to dig it out of WHOIS, just like I did. Oh and it's also likely that gordonbrown.org is designed to be a fair and balanced website, and David is simply hedging his bets.)
So… a few familiar names and some interesting leads have popped up in this little excavation, but there are still a couple of things that I need to know:
– Who is this David Taylor joker?
– Does he have a connection to Team Blair, or is he just a dedicated wallower with passion?
I think we can be pretty sure that this David Taylor is in the clear and – though we are dealing with a new media expert here – I'm pretty sure we can rule out this David Taylor.
Oh, and I've been nice enough not to publish his address, but because I know that he's based in Wales and just happen to have a copy of the Labour Party 2005 Election Campaign Return on my desk, I know that he's probably the same David Taylor who was paid £182 for 'website enlargement' (as recorded under spending return for Wales).
OK, folks… over to you. A project as bold as keepingthefaith.org.uk deserves context.
Seek! Fetch!
:o)
UPDATE – Oh, I almost forgot… the website at gordonbrown.org carries the following important message; "The owner may consider selling this cash-generating domain name."
Opportunity knocks.
UPDATE (5:00pm) – Well, he's quick… I'll give him that. If you try to visit any of the previously open directories, you get the message; "nothing to see here" – and the Things Can Only Get Better MP3 has been removed.
UPDATE (5:29pm) – Adrian McMenamin has a past connection to Iain Wright (who resigned as PPS yesterday)… this we know. But it looks like David Taylor has a past connection to Mark Tami (who also resigned as PPS yesterday). Mark Tami's website is "Designed and maintained by David Taylor" (the relevant text links to this profile page at this website). The next shared pint is bound to be… interesting.
But wait… it gets better… it looks like David Taylor has a connection to me!
Here's the message from the Contact page on Tom Watson's website (that I produced) using my bog-standard spamblock method:
And here's the message on David Taylor's profile page: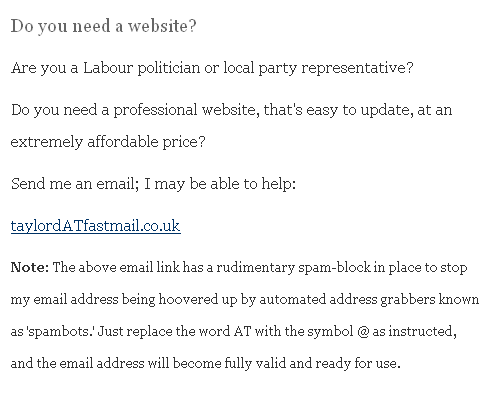 Ahahahahahahahaha! Well, imitation is the sincerest form of flattery after all… and one should not be surprised to find these kinds of connections, because – when you're a member of the Wales chapter of the New Labour's Rapid Rebuttal Unit (aka The Dirty Tricks Team) – you tend to get around.
Yes, folks… David Taylor and Adrian McMenamin are like two peas in an alien pod – and they are firmly in Blair's camp. So much for a spontaneous outpouring of support for Tony Blair.
UPDATE (5:52pm) – Via Blair Watch…
Brit Nat AM's Researcher – David Taylor – orders the removal of Walter Wolfgang: We've received reports, that David Taylor – Labour AM Leighton Andrews' researcher – was the Labour party official who instructed the stewards to remove 88 year old Walter Wolfgang from the British Nationalist Labour Party conference. Apparently Taylor was watching the speech live on Sky News outside the conference hall, and shouted in to his radio: "You can hear the f***ing heckling on Sky News. Shut them up, or take them out."
Ahahahahaha! Please let it be the same David Taylor.
UPDATE (5:59pm) – Damn and blast it, this is all happening faster than I can type and update. David Taylor has just left a comment saying; "I am not attempting to conceal my identity, nor do I claim to be a "new media genius"!
Into comments we go…
UPDATES:
Bloggerheads – Keeping The Faith: more on David Taylor
Bloggerheads – David Taylor Vs. Clare Short