This entry was posted on
Wednesday, March 12th, 2008 at
9:04 am and is filed
under Gordon Brown, Page 3 – News in Briefs, Rupert 'The Evil One' Murdoch, The Political Weblog Movement.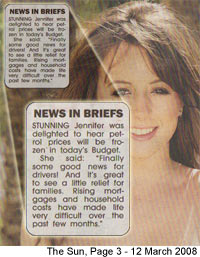 10 Downing Street – PM marks International Women's Day: The Prime Minister has marked International Women's Day 2008 by asking women's business leaders for advice on how to support the "next generation" of successful women. The PM and his wife were joined for a lunch reception at Number 10 by a range of guests including Oxfam CEO Barbara Stocking, Sun editor Rebekah Wade an*WAIT! WHAT? WTF!? Rebekah Wade???
If I read this article right, Gordon Brown is asking Rebekah Wade of all people to "adopt and mentor" British teenagers and young girls in order to empower them.
And yet in today's super soaraway Sun, there's yet another perfect example of Wade's ongoing efforts to exploit young women by using their semi-naked bodies to feed her readers either (a) right-wing propaganda (b) Downing Street propaganda, or (c) a clever mix of both.
(If you're new to Bloggerheads, plenty of examples can be found here and here.)
Putting Rebekah Wade in charge of a young women with aspirations is like putting Fagin in charge of a child-entrepreneur scheme; the majority of 'graduates' will be victims used to victimise people, with one lucky pup (maybe) getting lessons on how to form and control their own gang.
I'm guessing *that* lesson starts with a special contract for nudie shots, that states in complicated legalese that the editor has the right to assign opinions to any/all models in a clear attempt to exploit them and everyone who likes staring at their boobies.
Yet another Big Lie, courtesy of the 'new and improved' Downing Street, ladies and gentlemen.
(Oh, and speaking of big lies, there's a right-wing editor on the loose in Wikipedia who likes to censor his own Talk page, and one of the many favours he's done for the British gang of right-wing pseudo-bloggers is the big lie – first entered here – that Paul Staines ended up independently wealthy after his years in the field of finance. Two trails for you to follow if have the time and inclination to join me.)