This entry was posted on
Monday, January 5th, 2009 at
8:53 pm and is filed
under Consume!.
In an effort to temporarily escape the nonsense of thin-skinned liars, right-wing drunkards and assorted mouth-breathers, I recently took to reading magazines that pre-dated even Paul Staines' 1986 adventures with the BNP… but I was a fool to think that this would shield me from the freaky underworld of absurd demands and retractions.
Take a look at this massive half-page item from the April 23, 1983 issue of Eagle that addresses a great injustice done in the single frame of an earlier issue where a fictional superhuman robot manages to pick a domestic door lock: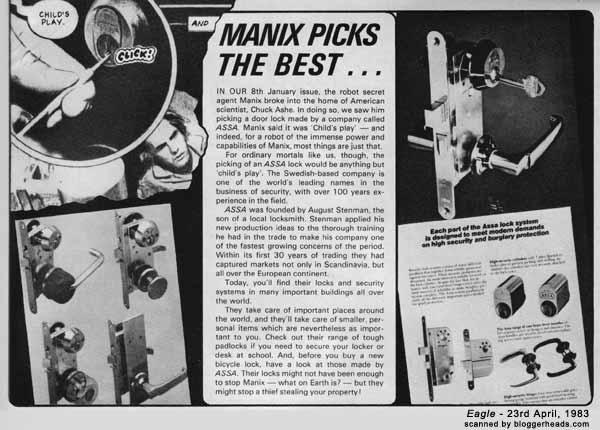 Incidentally, ASSA ABLOY no longer sell locks. Instead – stand by to tip the Eye – they offer 'door solutions'. They even claim to be "the global leader in door opening solutions".
:o)
(I kid you not; see here and here.)
Note – Nothing on any of the ASSA fleet of websites indicates how resilient their current products are to the efforts of robots, zombies, robot zombies, or lock-picking pixies… so be warned and do keep a shotgun handy.