This entry was posted on
Friday, January 23rd, 2009 at
8:48 pm and is filed
under The Political Weblog Movement.
Over the past 20+ hours, Derek Draper has been playing a fun little game of comment keepsies.
He's been challenging folk, including me, to respond to this or that… while withholding any responses.
This is the link, but please keep in mind that this thread could change and there are a number of comments Draper could release at any time. A screengrab for reference is below: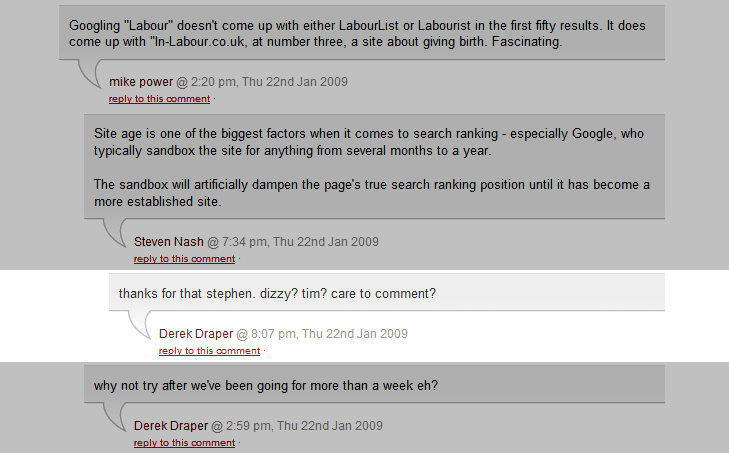 Given his recent behaviour, I have every reason to expect that these responses – or simply the ones that put him at a disadvantage – will be deleted. Or maybe even released all at once into a confused mess a day after most readers will have moved on to another conversation.
He is using his position as moderator of the conversation to gain an unfair advantage in the conversation. This is a childish game, but it wouldn't matter quite so much if he didn't also tout himself as Labour's ambassador to bloggers; a man who believes in the empowering wonders of engagement and debate.
I am trying to be patient with Draper and his people, but it appears that we have come to something of a crossroads: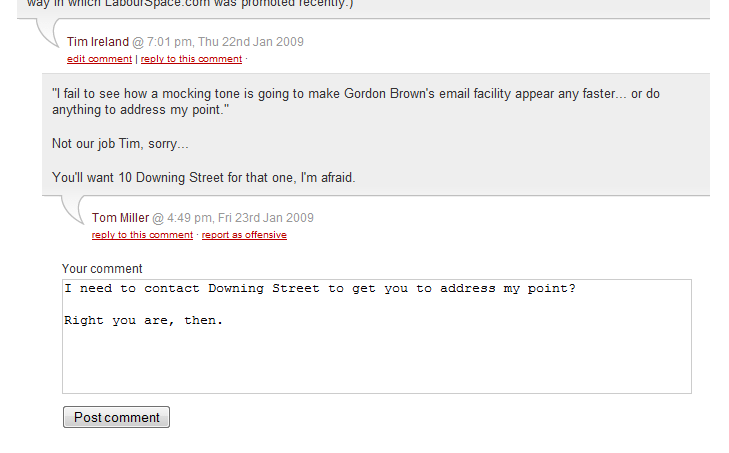 Well, there it is. If I want Draper and his gang to take me seriously and treat me courteously, I've got to go through Downing Street.
An interesting week lies ahead.