This entry was posted on
Tuesday, April 14th, 2009 at
1:52 pm and is filed
under The Political Weblog Movement, Video.
The UK Political Blog Guide [2009]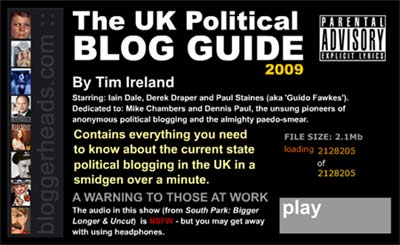 This video contains everything you need to know about the current state of political blogging in the UK in a smidgen over a minute, and stars all of the main players in the grubby-on-all-sides Draper/McBride 'smeargate' affair.
PS – Iain Dale and Paul Staines still refuse to show any evidence proving their repeated claims of a Downing Street conspiracy against either or both of them specifically, but they are dishonestly grouping this unseen email with the published email(s) and insisting that they have evidence to prove their conspiracy claim. Iain Dale has already made one false claim about this. There's every reason to be suspicious about the personal conspiracy claim too, so… Let's. See. The. Evidence.
UPDATE – Yeah, I noticed this, too; Iain Dale, in a typical abuse of the power that comes with added publicity, used the opportunity to press his false narrative about the right's dominance of the blogosphere.