This entry was posted on
Thursday, May 7th, 2009 at
10:16 am and is filed
under Search Engine Optimisation, The Political Weblog Movement, UK Libel Law.
I recently made an information request (details later) and one of the things I asked for was details of searches made using my name and/or the name of my website.
I asked for this data and (depending on what they find) I have a right to this data because of a nifty new smear effect/tactic that you may not be aware of called 'keyword broadcasting'.
With keyword broadcasting you don't really need to publish/host anything on a website to effect a smear; instead, you merely have to hammer away at Google by [method specifics censored*], associate one or two ugly words with the name of your target, and Bob's your uncle with something to hide.
Let me show you what I mean:
Recently, Paul Staines (aka 'Guido Fawkes') cleverly pointed out the related searches that appear when you search for 'gordon brown'. Well, actually, he had to stretch to the more contrived option 'gordon brown is', but check out his post and you'll get the idea: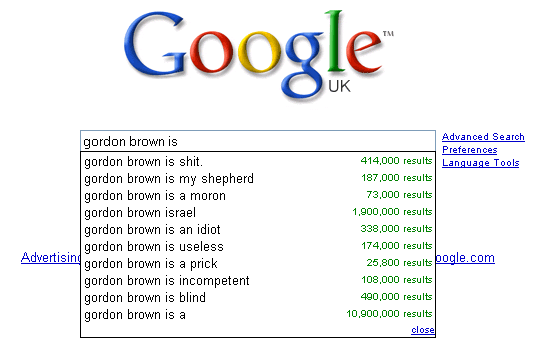 If you extend the search to 'gordon brown' and type an 'r', you'll see that just below the upper threshold is the ugly 'rocking horse' smear that Paul Staines regularly airs on his website:
Do a search for 'paul staines' and what you'll see is the following (naturally occurring) pattern:
Do a search for my name today and you'll find a recent addition to the related searches:
See that 'bloggerhead' (i.e. not 'bloggerheads') there? That is brand spanking new, and a side effect of multiple searches used by Glen Jenvey and/or his associates in order to find past/current locations of this smear.
This is a slightly more harmless side effect of the general administration of these smears, but it shows how easily the full effect could be achieved if one were to know what they were doing.
The demand threshold is lower for less famous/established names/figures, so MPs, councillors and candidates will want to be especially wary of this tactic.
(*I'd go into detail on this and other certain specifics required to make this work, but we all know that this would be a bad idea.)