This entry was posted on
Thursday, April 1st, 2010 at
8:51 am and is filed
under Tories! Tories! Tories!.
Right, that's it; I am thoroughly fed up with the notion that Nadine Dorries can lie and cheat her way through a term and expect to keep her all-too-safe seat. The good people of Mid Bedfordshire need to be warned about the party-political (and often all-too-personal) games that Nadine Dorries plays using the power they afford her.
So, along with Dave Cross and Sim-O, I have successfully negotiated 4 weeks off work & family duties, and together we intend to campaign against Nadine Dorries.
Running as an independent is a mug's game, and we're not going to pretend for a minute that any of us are prepared to represent the people of Mid Bedfordshire as their Member for Parliament. Hell, we're not even going to endorse any of the other candidates. What we seek to do is inform the good people of Mid Beds of the full consequences of voting for Nadine Dorries (if they suspect they'll have a mind to).
We already have a rocking campervan at our disposal, and while we're not allowed to paint it (boo!), we've come up with a way to safely attach ruddy great posters to the sides and rear of the vehicle, and we already have permission from three local property owners, one of whom promises (with a laugh) that we will indeed be able to see Nadine's house* from our van.
(*Obviously we are referring to her spacious 12-bedroom constituency 'second' home, not her single-bedroom 'main' home.)
If it's as close as he says it is, we've got a great internets connection and everything we need to install a mobile webcam; you'll be able to watch Nadine's front door live (and maybe even see who's been parking in her driveway) and maybe even sometimes come with us on our Disco Rounds. Oh, didn't I mention we'll also have her rigged for sound? We'll have a classic weatherproof public address speaker on that roof-rack within a couple of days, thanks to eBay. To request a song to be played on our Disco Rounds, use the hashtags #dumpdorries, #gonads, #discorounds and #trackrequest, then your song, then the artist.
Sim-O will be along shortly with a post about the NadMobile and its fittings, so hang tight for the specs!
MINI-UPDATE – As promised, here's Sim-O with the details about The NadMobile.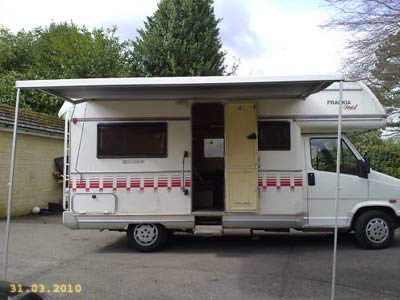 But even that's not all; the REALLY good news for you is that while we're on the ground in Mid Bedfordshire we will be spending a LOT of time delivering pamphlets, but we don't intend to deliver our message alone.
We also have a nearby base with a print lab that's already taking shape; it will feature at least 4 laser printers (two with capacity for A3 sheets, and all built like tanks) and we have a BIG pile of toner and recycled paper to hand. While we've our own plans to use this stuff to take issue with Nadine Dorries about a whole bunch of stuff that's been weighing on our minds, we have also pledged to deliver one extra pamphlet on behalf of all those who know Nadine Dorries best.
This is what we have dubbed The People's Pamphlet.
Dave Cross will be along shortly to give more details about that and more.
MINI-UPDATE – As promised, here's Dave with the details about The People's Pamphlet.
The short version is that soon a wiki will go live that will allow people to contribute, develop and perfect the ideas/images/text that will go into a kick-ass pamphlet, which we will then happily print and distribute on your behalf throughout the constituency of Mid Bedfordshire (asking for nothing more but a minor donation toward costs).
What do YOU think the people of Mid Bedfordshire deserve to know about? The full story of Dorries' expenses fits, fiddles and flip flops, perhaps. Foetuses that can punch their way out of a womb, maybe. There's room for maybe half a dozen issues maximum and it will be up to you to create and compose the overall message, which we will then complete, print and deliver.
What say you, Britain? Will you help us in our quest to save the land of Mid Narnia from the forces of darkness?
[Psst! The tag to use in Twitter is #dumpdorries. The link to share is http://bit.ly/DumpDorries ]
–
–
UPDATE (12:01) – APRIL FOOL!
No, we don't plan to take 4 weeks away from work/families to hound Nadine Dorries, park a van outside her house and basically stalk her on the campaign trail. That would be just a little bit OTT.
The joke is this is all too close to the fantasy Nadine Dorries and others hold to.
The punchline is that while all the van/stalking crap is fake… The People's Pamphlet is real.
Nadine Dorries: The People's Pamphlet
See you on the flipside of a plain sheet of A4 paper. Cheers all.