This entry was posted on
Tuesday, April 27th, 2010 at
8:53 am and is filed
under Page 3 – News in Briefs, Rupert 'The Evil One' Murdoch, Tories! Tories! Tories!.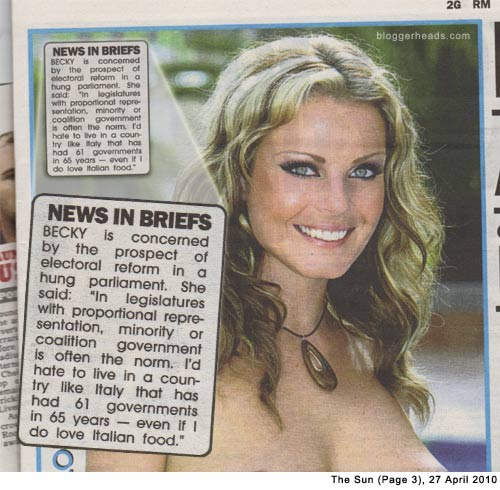 It's comforting to know that every white van man who enjoys a quiet moment with Page 3 today will be sufficiently alert to the dangers of a hung parliament and proportional representation.
The Sun exploiting young women and treating people like morons shock.
(In other news, they're also worried about young women in porn. Positively outraged, in fact.)
If you haven't done so yet, pop the tag #disobeymurdoch into Twitter. The alternative is submitting to this bullshit and eating out of the trough like everybody else:
Page 3 :: Girls + Words from Tim Ireland on Vimeo.
Related links:
"At the Sun, we deliberately ignored the Lib Dems," admits David Yelland, their former editor
"It is my job to see that Cameron fucking well gets into Downing Street," says Tom Newton Dunn, present political editor of the Sun