This entry was posted on
Wednesday, June 23rd, 2010 at
4:19 pm and is filed
under Consume!.
Telegraph – Nokia in plagiarism row after 'short film award winner disqualified for cheating' – Nokia, the mobile phone company, has been forced to disqualify the winner of a British film prize after an investigation found her entry was a direct copy of an earlier work. The technology giant had awarded its Critic's Award prize in its MiniMo competition to Jemma Lyon for "Forrest Chump"… a lo-fi retelling of the 1994 blockbuster Hollywood film, starring Tom Hanks. It was shot in one take on a mobile phone. But after winning the award earlier this month, the Liverpool John Moores University student faced claims that she had plagiarised her entry from a film called "Forrest Gump in one minute, in one take".
Hi gang. I'd like to begin, if I may, with a comment posted to the nokiaminimo.com blog on 19 June that Nokia published, but did not answer (source):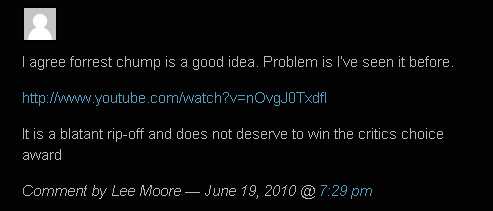 Further comments by Will Tribble (the creator of the original film) were also published, but left unanswered. Here's one example (source):
When Nokia finally did answer in Twitter, they certainly didn't give any indication that they intended to do anything about it (source #1, source #2):
In fact, it wasn't until after there was a sizeable public outcry that Nokia did anything at all, and for over 24 hours now they have been refusing to discuss the point already acknowledged by MOFILM; "this issue should have been dealt with as soon as it was flagged however it was not"
And I think I might know why.
Here is a further comment that Nokia have published on their blog, but not answered (source):
The circumstances 'Tina' describes do not strike me as odd or extraordinary for the following reasons:
– 1. With all due respect to the filmmakers involved, I do not think Nokia were getting the best out of the filmmaking talent that's available in this country, and I invite you to browse the 'leaderboard' to judge this for yourself (if you have the patience).
– 2. Nokia themselves documented two instances in which they aided a filmmaker with props and extras.
– 3. Nokia also describe plans for multiple campus visits on their front page; "Watch out for MOFILM:Labs on your campus, our amazing mobile editing suites that could help turn you into the next Spike Jonze."
Therefore, while it's possible that this is an unjustified attempt to damage Nokia or favour an entrant in some way, it seems perfectly plausible to me that Nokia* would send a company/competition representative out on campus to help a production along, especially if the concept was stronger/superior to what they already had (and judging by the judge's decision, it was). Also, Nokia have been evasive to the point of embarrassment about the matter of plagiarism, and I suspect they have something to hide besides incompetence.
So the question I would put to Nokia is this:
Is there any truth to what 'Tina' claims; that Jemma Lyon was encouraged if not directed by a representative of Nokia to copy an existing work and pass it off as her own?
If so, then serious questions have to be asked about the manipulation/exploitation of this young woman and the wider betrayal of trust.
Over to you, Nokia peeps. Any comment?
–
[*I recognise there may be confusion between Nokia reps/staff and people from MOFILM, but MOFILM have a lot more to lose in terms of artistic credibility, seemed genuinely surprised by the discovery of plagiarism, and were nowhere near as evasive as Nokia about it. Therefore, I am putting the question to Nokia in the first instance.]
[Psst! A message for Jemma Lyon: If there's any truth to what 'Tina' says and you have the raw footage, it may establish the truth of the matter, especially if the coaching described took place during the shoot. You may also wish to contact witnesses, ask them about their intentions, and have them independently write down what they recall if they wish to come forward. Remember; the charge of plagiarism is likely to dog you throughout your career if you plan to continue with filmmaking or any creative endeavour. I encourage you to stand up for your rights if you feel you have been treated unfairly, and I guarantee that if it's a case of Nokia putting you up to this and then letting you take the fall, then you will not have to fight alone.]
–
UPDATE 24 June – A statement from Nokia appeared last night:
Having continued to investigate the original minimo Critics Choice Award, it appears that one of our student team assisted in the making of the video, including offering their Nokia handset to shoot the short film and suggesting that the film was okay to submit to the competition. We are obviously very disappointed to discover that this has happened. While we believe that the original winner did not intentionally break the terms and conditions of the competition, the submission remains disqualified.
I hate to be fussy, but I think "suggesting that the film was okay to submit to the competition" could be clearer. Did one of the 'student team' (an employee of Nokia) originally suggest the idea to copy the film? I look forward to further investigation and some clarification.
[**Looks to me like someone had difficulty thinking of a good headline.]
–
UPDATE (25 June) – I've spoken to the communications team at Nokia, and they have promised a further statement within a week. Their position is that they wish to be thorough and discuss this in detail with all parties involved before saying anything further, which seems reasonable. The 'disconnect' that caused myself and others concern (i.e. giving the impression that the issue was being ignored or played down from the 19th to the 22nd, leaving Jemma Lyons to be pilloried as the sole party responsible during this period) appears primarily to be the result of an agency being in charge of the campaign weblog, leaving Nokia once-removed from the action, delaying their awareness of specific comments, and greatly complicating if not ruling out any meaningful dialogue on the blog. Speaking from experience (while tutting at Nokia for not being directly involved as they are with their Twitter channel), this explanation for the disconnect seems reasonable to me, and I trust the issue of this communications shortfall and its consequences will be addressed in the upcoming statement.
Until then, I think the most constructive thing I can do is leave you with some reassurance:
The 'Nokia rep' involved was NOT a senior (or even full time) staff member, and while this individual may have actively participated in the plagiarism rather than discouraging it in any way, the original idea to use Will Tribble's concept/script in full doesn't appear to have been anything more than a mistake by a young student (amplified greatly by circumstance***); for me the primary concern was that people in a position of power appeared to be betraying their trust and ours, and after speaking to Nokia I'm a lot less concerned about that.
[*** There's one word that applies to how this whole project was run, and that is 'sloppy'. I trust that this too will be addressed in the upcoming statement.]
–
UPDATE (01 July) – Nokia have since issued a further statement in response to a comment/statement submitted to their site by Jemma Lyon (a version of which was submitted to this site, but held over while I attempted to confirm her identity). A mirror of these two statements appears below:
To Whom It May Concern,
I would like to make a statement regarding the alleged plagiarism accusations from the Nokia Minimo movie competition.
I was approached by a Nokia representative who asked me to remake any video in under two minutes for his Nokia assignment. I was unaware that this was a competition at the time and did not receive a brief. The representative also promised to give me a mobile phone in exchange for assisting him with his project. I never received the phone. The Nokia representative was present during the filming of my video and after being asked several times if the film was ok to submit he insisted it was and persisted to show the actors the original video to direct them where to stand and what to do. At no point did the representative inform any of the people involved that the film was breaching the terms and conditions and I was led to believe that the entry was valid. Further to this, Nokia became aware that my entry was based on another video three days prior to sending me on the trip to Cannes, but they still sent me on the trip and refused to act until the public outcry. My name has been tarnished by this event. I have been branded a cheater amongst many other things too awful to write and I have yet to be informed of how Nokia aim to rectify this. I aspire to pursue a career in the creative media industry and this libel is a great hindrance to my progress to achieving the career I want. My efforts to expose the truth have been greatly subdued by Nokia and the rule of law seems not to apply to large powerful corporations in certain instances. In conclusion, I would like to reiterate that basing my video on Mr Tribble's creative work was done in ignorance. I was not aware that I was breaking any rules and the Nokia representative never informed me that I was doing so. I previously had no interest in submitting an entry but I was misled into thinking that I was merely helping the Nokia representative, he has since personally apologised to me for the way I have been treated. Nokia has allowed my name to be dragged through the mud by shrouding the situation with half truths and even some out right lies in order to save their own reputation.

Comment by Jemma [Jemma Lyon] — June 25, 2010 @ 10:18 pm (source)

–

As per our last public statement, we believe that there was no bad intent from the original winner when entering the MiniMo competition. However, in directly copying an existing piece of content and not declaring that the content was not their original work, they broke the terms of entering the competition. This resulted in the entry being disqualified by MoFilm.

We are in touch directly with the disqualified winner as a statement by them contains a number of allegations about Nokia that don't represent the information that has been provided to us; this is due to the differing accounts given by the winner and the Nokia student team member.

We apologise for the misleading guidance that the winner received from the Nokia student team member when completing the disqualified MiniMo submission. However, it was ultimately the entrants decision to select the content and submit the video and in doing so, accepting the responsibilities of entry.

We feel that we acted in the best interest of the competition and its participants with the information that has been presented to us.

Communication with our student team member shows that he did offer the entrant a Nokia X6 and we will ensure that the phone is delivered as soon as possible.

Comment by Nokia Minimo — June 29, 2010 @ 5:58 pm (source)
Today, Will Tribble (creator of the original Gump-in-a-minute film) offers us a further update that brings us no closer to a conclusion (currently it is the word of Jemma Lyon against that of a still-unnamed casual employee of Nokia) but does share some detail that Nokia will probably want to respond to.
Will Tribble – Nokia MiniMo competition

So, overall Jemma is claiming that this Nokia guy is almost entirely responsible for making the film all she did was film and and stick it into the competition under his directions, and Nokia didn't send her back from Cannes, they just told MoFilm they had.

1st July:

I've just had a phone chat with a guy from Nokia's PR team (Mark who runs their Twitter), and this was his stance:

– This Nokia rep was a part-time employee from their street team, who specialise in doing Nokia-related things in universities, etc.

– He was present at the filming and lent his phone. He knew that the film was a lot like our one, but said she should enter it anyway. However he had nothing to do with the planning, directing or editing of it.

– Jemma was sent back on the earliest flight it was safe to send her on, on Thursday morning (she was meant to leave on either Friday or Saturday, he couldn't remember off the top of his head).

So all in all, I'm not sure what happens next and I have no idea who to believe. I don't know whether Jemma was left to be the fall girl by Nokia or whether there's been a load of misunderstandings.
My position is very similar to Will's at present, but I'll reserve further comment for now.