This entry was posted on
Friday, April 15th, 2005 at
10:23 am and is filed
under The War on Stupid.
BBC – Questions over ricin conspiracy: When police raided a scruffy flat in a north London suburb on 5 January 2003 they thought they had discovered a factory producing the deadly poison ricin for an Islamic terror gang. Within days the newspapers were full of alarming stories about this deadly substance which, until then, the general public had never heard of.
New York Times – Just One of 9 Suspects Convicted in 2003 British Poison Plot Case: British authorities initially suggested Wednesday that Mr. Bourgass's convictions were successes in the international campaign against terrorism. Peter Clarke, the head of Britain's antiterrorist police branch, called Mr. Bourgass a "highly dangerous man" and said the poison plot was "hugely serious."… "What it had the potential to do was to cause real panic, fear, disruption and possibly even death to the public," Mr. Clarke said. But, as details emerged, the authorities said that four suspects in the case were acquitted Friday. On Wednesday, the police dropped charges against the other four accused of conspiring in the case – three Algerians and a Libyan. Defense lawyers said that, despite one of the biggest police investigations of recent times, there was little proof of a major plot.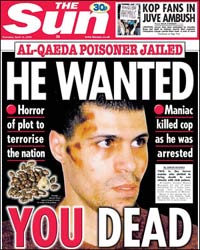 Guardian – The ricin ring that never was (link updated): Yesterday's verdicts on five defendants and the dropping of charges against four others make clear there was no ricin ring. Nor did the "ricin ring" make or have ricin. Not that the government shared that news with us. Until today, the public record for the past three fear-inducing years has been that ricin was found in the Wood Green flat occupied by some of yesterday's acquitted defendants. It wasn't.
But that's not what some newspapers would have you believe. Check out this shocker of a front page from The Scum.
You can see more here at the BBC's special 'front page' archive. The most audacious twist comes from the Daily Mail.
You can read more via this excellent post from Chicken Yoghurt.
And start an equally dastardly conspiracy yourself. Are you ready? Here we go…
Instructions for creating your very own Ricin Conspiracy
(Author of post begins searching for ricin recipe. Immediately finds two articles accessible to any journalist with half a brain and/or a desire to report the actual truth.)
Big Wide Logic – Ricin Recipe isn't Real
THE RECIPE FOR RICIN, Part II: The legend flourishes from the Dept. of Justice to the Senate Intelligence Committee
Bugger it all, reality has crept in. Never mind. Let's start again…
Instructions for starting your very own Ricin Conspiracy II
1. Link to the recipe, like so.
2. Convince another blogger to do the same.
3. Include this and , and you also have clear links to Al Qaeda.
4. You're done. See how easy it is?
UPDATES:
Independent – Ricin: The plot that never was: A deadly poison said to be at the heart of a terrorist conspiracy against Britain led to a dire warning of another al-Qa'ida attack in the West. The Government was swift to act on the fear that such a find generated. But, as Severin Carrell and Raymond Whitaker report, far from being a major threat, the real danger existed only in the mind of a misguided individual living in a dingy north London bedsit.
Underblog – Al-Qaida's UK poison plot: No poison, no link to al-Qaida