This entry was posted on
Tuesday, July 10th, 2007 at
3:40 pm and is filed
under Tony 'King Blair.
Don't you think it's amazing that Alastair Campbell can use exactly the same tricks that helped to deceive this country into a war and still have the MSM eating out of the palm of his hand? FFS, even the BBC are practically begging to give him free airtime.
If you would like to show that the blogosphere can do something that mainstream media cannot and tell Alastair Campbell to go f**k himself in the process, all you need do is:
1. Pledge not to buy the book. After all, nothing really juicy went into it, anything halfway-juicy was taken out of it, and any halfway-decent scraps that are left will be repeated in newspapers anyway.

2. Don't blog about the book beyond your decision not to blog about it and/or not to bother buying it.

3. Place this handy button to one side of your weblog for the next fortnight so readers know why you're not blogging about Cherie Blair's knicker drawer.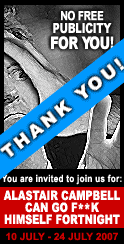 Copy and paste the code below to use this button on your website or weblog:
UPDATE (25 July) –
For All Participants: It is now two weeks later. Alastair Campbell's book has been marked down to less than £13 by Tesco and Amazon. Copies are trading on eBay for less than £7. I thank you all for your input (or, rather, the admirable restraint that led to a notable lack of it). Cheers all.