This entry was posted on
Friday, March 27th, 2009 at
10:10 am and is filed
under The Political Weblog Movement.
OK, taking as read that Derek Draper is just as shameless a spin-merchant and just as crooked a blog-cheat as (if not more so than) Paul Staines, check this out:
Paul Staines (aka Guido Fawkes) and Derek Draper on Daily Politics – Thursday, 26 March 2009:
[Extract from 01:50 to 02:10]

Paul Staines: When he was starting up, he phoned me up for advice, he had lunch with Iain Dale, and then quite disgracefully [to Draper] you go and smear… Dale… as a racist

Derek Draper: I didn't say he was a racist…

Paul Staines: But who put you up to that? Because…

Derek Draper: … I said he was an apologist for racism.

Paul Staines: But who put you up to that?

Derek Draper: Nobody put me up to that…

Paul Staines: Damian McBride put you up to that!

Derek Draper: Well, look, already…. [he gestures at Staines]

Paul Staines: I've seen the briefing paper done by Downing Street; "How to get Dale"

Derek Draper: Well, publish it.

Paul Staines: I will publish it this afternoon
Then, later that afternoon, instead of the promised knockout document, we get this: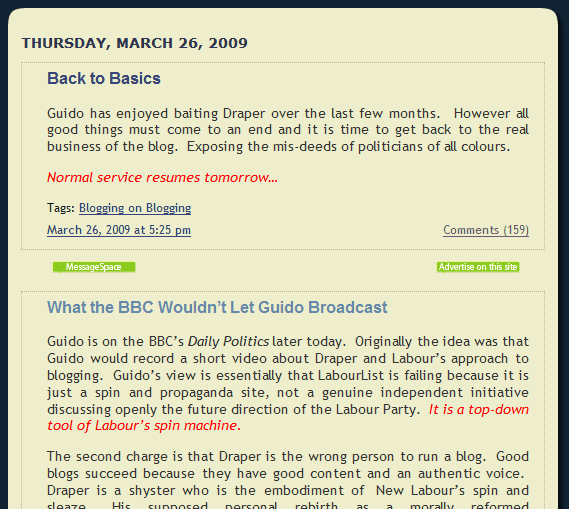 Now, don't go putting me in the Draper camp like the knee-jerkers are bound to (there's plenty of bullshit from both of them in this broadcast; in fact, with the amount of bullshit they've managed to fit into just over 5 minutes, I think they may have broken some sort of record) but Paul Staines used this platform to declare that there was a Downing Street conspiracy to 'get' Iain Dale, and even promised to produce a document proving it that very afternoon.
Only he didn't do that.
Instead, he decided, real cool like, that now might be a good time to retire limp from the field and suck on a few oranges.
Paul Staines has punked out… again.
He's got no game.
And, it must be said, no head for telly.
–
(Psst! Meanwhile, here's Iain Dale being a petty, dishonest and partisan twat. Again.)