This entry was posted on
Wednesday, April 15th, 2009 at
2:58 pm and is filed
under The Political Weblog Movement.
UPDATE (16 Apr) – Paul Staines has now removed these false claims from his website and has agreed not to publish any more like it.
After several fruitless attempts to confront Paul Staines about false claims made about me on his website (via email and the comments function) today, I've had to chase down a mobile phone number for Paul Staines just so he could 'kindly' offer to delete comments on his website that (yet again) make false allegations about me…. just this once.
The terms he describe set a precedent where in future I will have to monitor Paul Staines' order-order.com website for similar allegations, and contact him by phone again so he will read a single email and take action.
He wishes to use this system because he claims not to read emails from me.
Also, this novel system of communication has become even more complicated now that Paul Staines refuses to answer my calls.
Finally, he lied outright about being completely unaware of the claims, because he has published such claims many times before, and actively encouraged further claims via anonymous comments (that he may or may not make himself) many times in the past.
His acting surprised that such a claim would be left unmolested on his website goes well beyond deceit to an outright insult to my intelligence.
Here's what's been live on his site, and the proof that my reply to the false accusation was seen and deleted: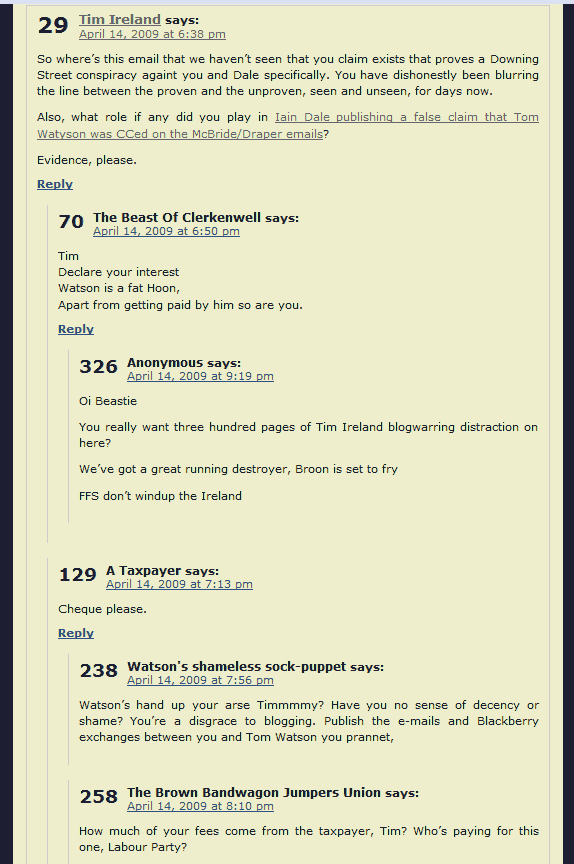 Even if Paul is going to claim that one of this little helpers does the moderating (which office are they based in, Paul?), in the end he is responsible for what is published on his website.
On that note, I took this to Jag Singh of MessageSpace, which is my usual route when Paul Staines is publishing lies about me or otherwise attacking me on his site and the ignoring my attempts to respond (which he does often).
The official line is that; "Paul Staines is neither a shareholder, director or employee of MessageSpace and never has been," but Paul once issued legal threats against me that were traced back to the office to MessageSpace, and concerned an article that alleged that he had been stealing other people's work and hosting it in the core directory of the MessageSpace website.
I contended at the time that it was a bit odd that Paul would have this kind of access to the MessageSpace website/server, if he was only casually wandering in and out of their open office from time to time as they claimed.
But it gets better.
I regarded Paul's offer of answering a single email and deleting a single set of comments to be completely unacceptable, and I said so to Jag Singh… who offered to log into the order-order.com website and delete them himself.
Read that bit again; Jag Singh offered to log into the order-order.com website and delete these comments himself!
Paul Staines and Jag Singh and MessageSpace are far more intimately connected than the paperwork alone might suggest.
It is for this reason that I am finally reacting to these ongoing smears and false allegations about me on the order-order.com website by announcing and advocating a boycott against MessageSpace and any commercial/campaign advertisers paying for placement on that network until such time that Paul cleans up his act or MessageSpace remove Paul Staines from their advertising network.
I realise that this may create certain behind-the-scenes difficulties for them, but at least the paperwork should be easy to sort out, right? Because Paul Staines is only some guy who happens to carry their ads and wander in and out of their open office from time to time, right?
Yeah, right.
MessageSpace obviously consider themselves to be a position where they have control over unacceptable content on the order-order.com website, so I say they should answer for any/all of it if Paul Staines won't.
And he won't.
Recent days have shown that Paul Staines will openly deceive people any time he is given the opportunity, and I am a regular victim of the lies and insinuations he publishes. He probably thinks that he can get away with it because – unlike him – I'm not in a financial situation that allows me to throw lawyers about. But it ends here.
I want more than this single entry deleted. I want this culture of repeated false allegations to end to the point where every past entry that makes a false allegation about me on his site is removed, and every future entry mentioning me by name is held over for moderation and checked before it is published.
His new system is supposed to be able to handle this simple task… let's see it in action.
Like Iain Dale, he cannot expect to get away with pretending to ignore me if he is constantly using his website to attack me, or allowing others to attack me while he deletes my respons(es).
Accusations made about me on his website include (but are not limited to) voyeurism in public toilets, homosexual relationships, stalking and harassment of women, and being in the pay/employ of Tom Watson, the Labour party and/or the government… and I've had enough.
Until it comes to an end, I am declaring war on MessageSpace, the only entity with any control over his website that is in any way accountable.
If they feel they are in a position to take action over this single entry, then let's see them take action over all of them.
Now.
–
UPDATE (16 Apr) – Paul Staines has now removed these false claims from his website and has agreed not to publish any more like it.