This entry was posted on
Thursday, November 5th, 2009 at
3:27 pm and is filed
under Guy Fawkes Night.
Previously, I've burned Tony Blair and Rebekah Wade in effigy. Last year, 'Bob' went up in flames and you got to join him (you lucky devils).
This year, I'd like to introduce you to 'Johnson':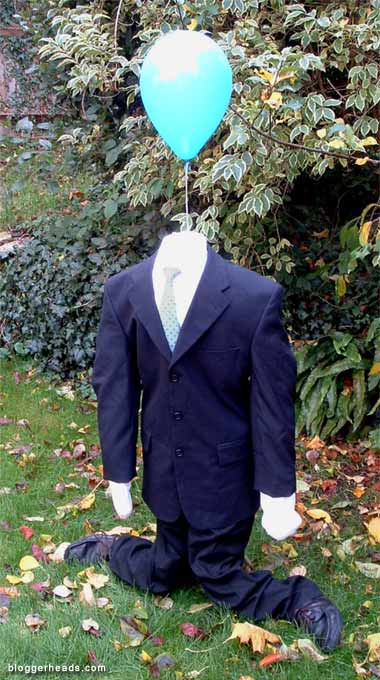 As you can see, Johnson really hasn't got a leg to stand on, and all that's keeping him aloft is his over-inflated sense of importance.
There's more to come, so watch this space for updates. Have a happy Guy Fawkes Day, (almost) everyone!
–
UPDATE (06 Nov) – See this? This camera (plus carriage that I built last night) weighs 346 grams:
The two lightweight tether wires that go with it each weigh 25g. Using MATHS and SCIENCE (in the pursuit or ART) I have determined that I will require roughly 50 helium-filled latex ballons (with short kite-string ties) to lift it all; perhaps a little more to get the tether(s) nice and taut.
Happily, the good people from Party Ark have kindly donated the helium and balloons required for this project (and there's a strip-down plan for the camera/carriage should it prove to be overweight; this backup plan is entirely foolproof, because it involves the use of duct-tape).
If you take a look at what happened last year, you can probably work out the rest for yourself… and if you can't, then you haven't got long to wait.
More updates to follow. Watch this space.
–
UPDATE (07 Nov) – Yes, after capturing video footage inside the bonfire last year, this year we are attempting to capture video footage from ABOVE the bonfire.
Having done some further measurements this morning, I've decided to attempt video capture in two stages; initially some 9-10m above the ground (2-3m above the flames) and then 13m above the ground (which should capture the entire circumference of the bonfire). The 7m tether wire will be attached to the camera by a weak-point that is designed to burn or melt away once flames build to their expected peak. The camera and balloons are then expected to shoot up pretty quickly, so I have a double tether wire set to take this initial shock and keep it at the 13m height until the wire or fasteners finally give out (giving us a shot from the camera as it floats up, up, up away from the bonfire), or the balloons melt or burst in the thermal updraft (giving us a shot of the camera falling to its doom).
Our main enemy will most likely be wind (which will buffer the camera and/or put it off-centre), but nothing strong is predicted, and we're relatively shielded in a valley position.
Keep your fingers crossed, and watch this space for further updates.
–
UPDATE (08 Nov) – Gah! Even with all that lovely helium (from the good people at Party Ark), we barely got off the ground. Even if we did manage to do more than knock helplessly against the bonfire, the winds and the thermal updraft from the bonfire would have finished us in seconds, but we did salvage some footage:
Guy Fawkes Night Bonfire Camera II (2009)
We have a developing plan for next year that doesn't involving battling gravity. Until then, we return to our regular programming. Cheers all.