This entry was posted on
Monday, October 10th, 2011 at
2:27 pm and is filed
under Old Media.
Did anyone else notice anything funny about this picture of Adam Werritty's business card, as featured in the Daily Mail? No? Just me then.
Was anyone else so blinded by irrational hatred for tabloid newspapers that they recognised it as backwards text and assumed this to be the result of their scanning it from another newspaper? No? Didn't think so.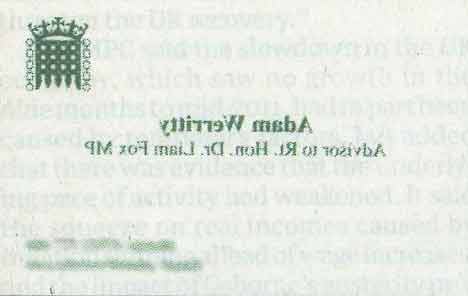 Was anyone else so jealous of the professional standard set by the Mail that they spent an entire 2.5 seconds reversing the image to confirm this, and then spent a further 6.8 seconds in Google so they might discover which newspaper the Daily Mail has been lifting material from without credit? No? Well, that's to be expected.
Oh, and it was The Guardian, by the way; the Daily Mail scanned an image for one of their articles from The Guardian, and didn't bother crediting them. But I'm sure this is one of those perfectly innocent oversights, and the Daily Mail had permission to use the image, which is why they used the high resolution version one can only get from scanning a two-day-old copy of a rival newspaper.