This entry was posted on
Thursday, October 20th, 2011 at
10:11 am and is filed
under Humanity.
Let's take Ricky Gervais at his word and assume he is being sincere when he says he is merely reclaiming the word 'mong':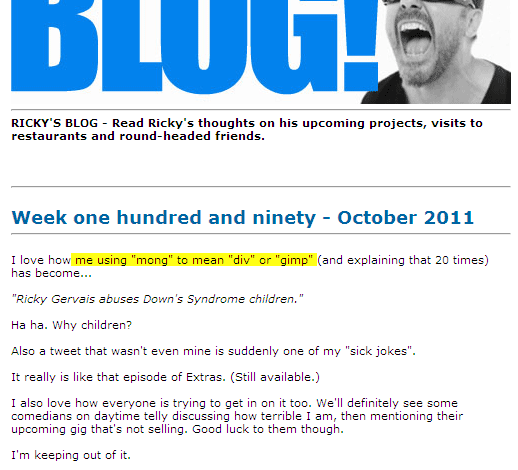 Because it is not a slur against any handicapped group, or a reference to any handicapped person or condition, it merely means 'div' or 'gimp' (source), and…

Hang on, let's start again…
Let's take Ricky Gervais at his word and assume he is being sincere when he says he is merely reclaiming the word 'mong'… while wanting to stay out of the relevant debate, obviously:
Hang on, let's start again…
Let's take Ricky Gervais at his word and assume he is being sincere when he says he is merely reclaiming the word 'mong':
You would think from his time on the 11 o'clock show that Ricky Gervais would have observed some reactions to Ali G and developed at least a vague awareness of the risks of satire being misread. Now, depending on the subject matter, the goal, the audience and the execution, sometimes these risks might be warranted, and sometimes they might be open to criticism*.
[*Does not equal a call for anyone to be banned. Is merely a component in what is often called a 'debate'; something Mr Gervais wishes to engage in while running away and calling his critics names.]
For example, if you were going to attempt to reclaim the word 'mong' you would want to at least spend a few seconds thinking about the potential targets of a word that is still used in a hateful sense, and you would probably want to have a goal beyond wanting to use the word yourself to mock a dim-witted mate or even yourself as part of your PR for a telly show.
A few seconds thought about those human beings might make you more wary of some fans who might miss the point (see: 'street' kids who took to mimicking Ali G as part of their shtick without a lick of irony or awareness). It might also stop you from defending your stance with an accusation that critics are merely offended (see: the dictionary, where 'harm' and 'hurt' are some distance away from 'offence', and not just because of that alphabetical nonsense). It could also prevent you from insulting those you have injured by positioning yourself as the victim.
Speaking of victims, here's a poor dear who Ricky Gervais kindly retweeted because she complained about the 'pounding' she got when her comment against one of Ricky's critics was RTed by that critic…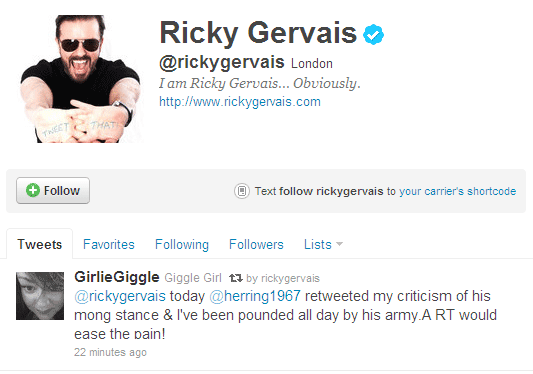 … and here is an earlier conversation from her timeline that suggests a possible reason for some of the hostility she is facing:
Now, perhaps these comments from one of Ricky's fans aren't malicious/ignorant and are instead so deeply steeped in irony that the post-modernism is impossible to detect, but isn't there at least the teeniest tiniest risk that either way these comments might somehow reinforce or even encourage further thoughtless, careless, or even malicious use of a word that causes harm in a way the able-bodied and able-minded might have a little trouble comprehending?
Further, if your comprehension of this harm was lacking, would you think it your place to take this kind of risk on behalf of any vulnerable person or group… and wouldn't a celebrity with nearly half a million followers on Twitter want to be at least a little bit cautious about 'reclaiming' a word in these circumstances? Is Ricky Gervais really that confident in the intelligence and literacy of his fans?
To close, for no reason other than balance (*cough*) here is a random selection of recent tweets from Ricky's fans pointing out that he is a genius. This being the case, perhaps I just don't understand what a tight grip he has on this situation:
–
UPDATE (7pm) – Francesca Martinez is comedian who has worked with Gervais. She also has cerebral palsy, which would provide her with vital insight into this issue even if she hadn't been called a 'mong' in the pejorative sense recently (and she has). Martinez has tweeted in support of the vulnerable generally and fellow comedian Richard Herring specifically; Herring has been copping some horrendous abuse as a result of his early and well articulated stance.
Here is a sample of related tweets from Martinez, including three of her most recent: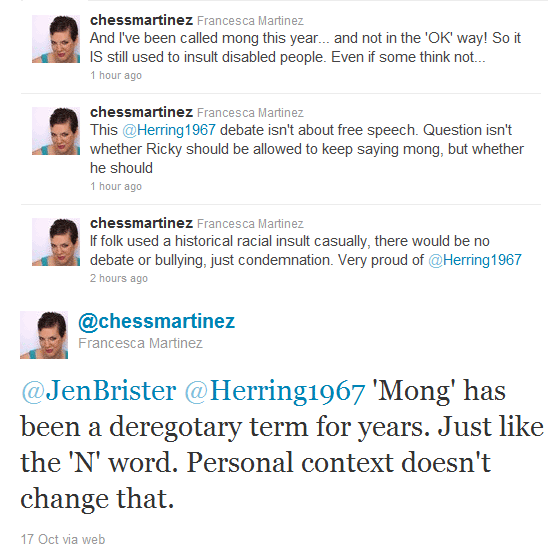 And below, a response from a Gervais supporter this evening that rather supports my point. Observe how faithfully it follows the pattern of Gervais talking down the careers/achievements of his critics as if that's relevant to the argument:
This is what you are encouraging, Gervais. This is how your fans are reacting to your poor conduct and your pisspoor defence of same. Take a bloody look in your wing mirrors once in a while and wake up to yourself.