This entry was posted on
Monday, August 11th, 2014 at
11:54 am and is filed
under Christ…, Humanity, It's War! It's Legal! It's Lovely!, Rupert 'The Evil One' Murdoch, The War on Stupid, Tories! Tories! Tories!.
Over the weekend, the Sun on Sunday columnist and former Tory MP Louise Mensch began beating the drum for war in Iraq. The intensity and bloodlust was striking, and stood in stark contrast to the thoughtful quote in her Twitter bio: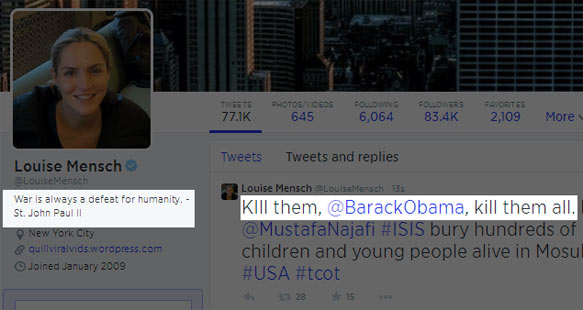 It is also worth noting how ignorant and downright childish some of her tweets were. At one stage, Mensch began tweeting in Arabic, hurling abuse at alleged/perceived supporters of ISIS* that ranged from 'your leader is fat' jibes (seriously) to the kind of 'cave dwelling' and 'goat fucker' slurs that have strong, offensive and damaging racial and cultural overtones whether you direct them at a specific group or not.
(*NOTE – Some of these so-called ISIS operatives used words like 'fag' and 'dude', indicating to most reasonable people that they were more likely to be a teenage troll operating not out of a cave in Iraq, but their Mom's basement in Iowa.)
Critics of this behaviour were characterised by Mensch as 'terrorist sympathisers', or 'apologists and lefties' who risked aiding and abetting the enemy.
I recorded not only the outburst, but the reaction to it (i.e. by logging mentions of her name/username in Twitter). Mensch was getting a lot of support from the kinds of people who will tell you that Barack (HUSSEIN!) Obama is a secret Muslim, but the majority of Tweets on Saturday morning especially involved people who were genuinely concerned that Mensch was (a) the victim of a Twitter hack, or (b) experiencing some kind of breakdown or drug/alcohol-fuelled episode. Any judgement on the latter aside, it is worth noting how many observers regarded her output to be so extreme that they could not believe that this dedicated controversialist had posted it herself… at least, not while sane and sober.
Keeping in mind that while there are outrages that ISIS (or IS) are responsible for, much of what Mensch was posting during this outburst was (at the time) unverified, wholly inaccurate, and/or in many cases entirely fabricated.
Zelo Street has some further detail here. This post exists mainly to call Louise Mensch out on one single fabrication in the hopes that she will finally retract it, not only to correct a shocking libel against the two people pictured, but to bring comfort to the tens of thousands of people who are needlessly concerned about the fate of one of the young girl involved.
Here are the two main tweets of concern. The first (bottom) is a retweet, the second (top) is where Louise Mensch repeats the monstrous lie in her own words:
While the man pictured is (or perhaps was) an advocate of the Islamic State (IS) and may or may not be involved in the current armed conflict, in this picture he is not an invading soldier, but the host of a 'family fun day'. At this 2013 "Ramadan event for children", there was an cream-eating race, a tug-of-war… and a competition to accurately recite religious text, in which the young girl pictured was involved.
Now, if you share any concern about religious indoctrination of young children, we are totally on the same page. I personally own a bible that was given to me at age 8 in reward for accurately reciting the 10 Commandments, and I treasure it in much the same way that a soldier keeps the bullet that didn't kill him. You can be as OK or as upset about the religious component as you wish to be, but it does not change the fact that the girl in the following video is upset only because of a mere error and/or stage fright.
The girl is NOT in tears because the host of the show wants to molest her. Perhaps Louise Mensch was thinking of someone else at the time.
Let's be especially clear about two things: the man pictured has not just announced his intention to marry a young girl, and the event has not taken place in the recently-overrun city of Mosul. To claim otherwise is to engage in a lie with a dark and insidious purpose that also has strong, offensive and damaging racial and cultural overtones.
1. I am not getting into the whole 'was Mohammed a paedophile?' thing; it is sufficient to know that accusations of paedophilia carry a certain resonance in this context, and anyone claiming expertise in Islam and/or the West's role in conflict in the Middle East should know it.
2. The idea that ISIS are invading cities and raping children is a lie that is clearly designed to provoke the kind of shock and fear that removes any question about the need for an armed response.
That there is reported to be "striking evidence" that ISIS have killed women and children and perhaps even buried some alive should not distract you from the latter concern. If anything, it should cause you to approach such reports with caution, especially if the source is calling for a response of total annihilation and accusing any moderate voices of being in league with the enemy.
Many observers of the outburst noted Mensch's refusal to back down on what was an obvious lie specifically designed to draw people to join a call for bloodshed.
I would like to leave the last word to one such observer…
@LouiseMensch every time I see you in the media from now on, I will think about that tweet and remember you are not to be trusted.

— Ian Clark (@ijclark) August 10, 2014
… but if you prefer we can leave the last word to Louise, her god, and her guns:
@SherrinThePain @AgainstISIS yes you are, now sod off while other people are doing God's work, there's a good lad

— Louise Mensch (@LouiseMensch) August 10, 2014