This entry was posted on
Wednesday, June 20th, 2018 at
12:23 pm and is filed
under Scouting.
As many of you know, I volunteer as a Scout Leader, and as most of you suspect, I pride myself on bringing new ideas to the role. I've held back on showing off some of my niftier ideas for far too long, so today I'm going to kick off with my version of the obstacle course: it's a 'spider web' obstacle course made almost entirely out of string.
The following is mainly inspiration for other Scout and youth leaders, but I'm also involved in the youth activity programme at Byline Festival, so if you'd like to come along and bring your kids, myself and other volunteers will be creating and running an 'Obstacle Course Course' alongside other events from 24th – 27th August 2018 at Pippingford Park. Tickets are available now.
1. Choosing a site
I typically like to choose a small grove with any boughs that bend or arch toward the ground or grow in any other way that creates potential frames for your webs. So, pine and fir are rubbish, but willow, hawthorn and hazel are ideal. Oak is nearly always too big unless you are building a giant web out of rope, but I'll get to that soon enough.
2. Clearing (some) nettles
If you see a big tangle of blackberry or rose, save yourself the trouble if you can and choose a new location. If there are nettles everywhere (common on farmland and campsites because they thrive on phosphates), then this is perfect. Plan your course and only remove nettles from desired pathways. This way you can use existing nettles to prevent people from going in the wrong direction, and/or from blundering into an unplanned and potentially dangerous obstacle beyond the course (e.g. wire fences, ditches, bits of metal sticking out of the ground, and so on).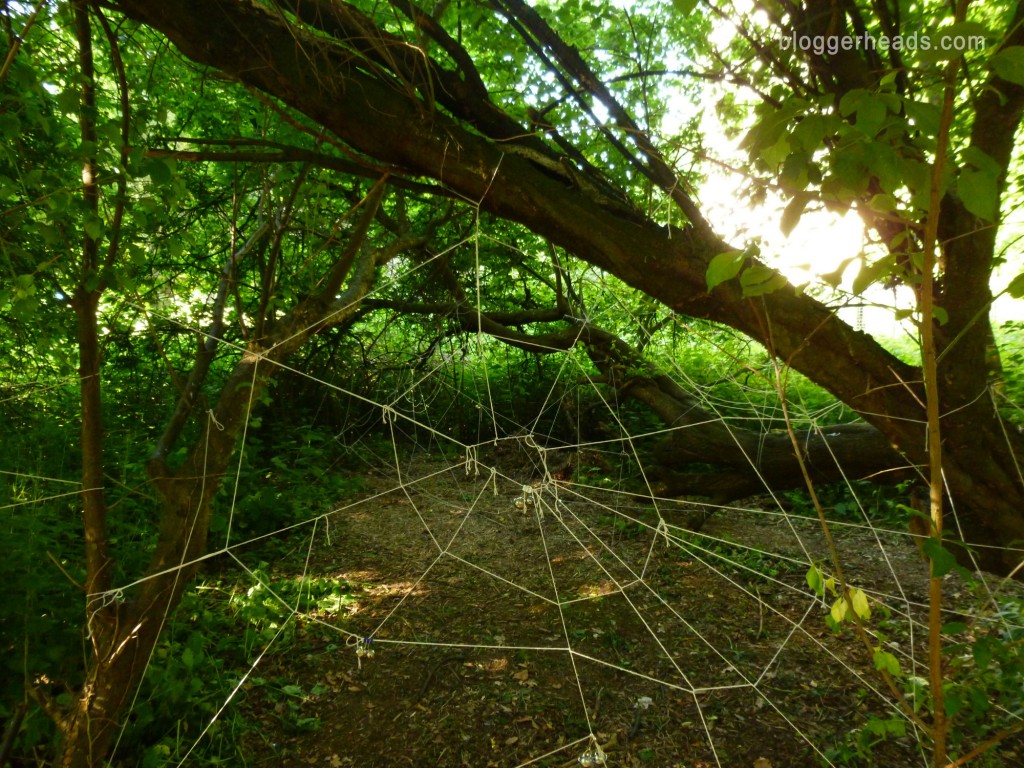 3. Building string webs
The process is very simple. Using ordinary white cotton twine, you tie off a small circle of string with a non-slip knot, and then suspend that circle from a branch or branches. Then you anchor it with eight to ten lines radiating out from this same circle ('radial threads'), tying your lines to branches above, trunks to the left and right, and – where necessary – small pegs in the ground. By this stage, it should look like a bicycle wheel (i.e. with spokes). Then you finish of the web with some larger circles around your small circle ('spiral' threads): you can tie or simply twist these around each radial thread until the string comes around to meet itself.
There's a knack you pick up after trying and failing for a bit (like running a secondary radial thread here and there to tighten your circles), but other than that, it really is that simple. Just keep thinking like a spider, and following their rules*.
(*No biting!)
Once any young people have the knack, have them show other young people so they can practice their teaching skills.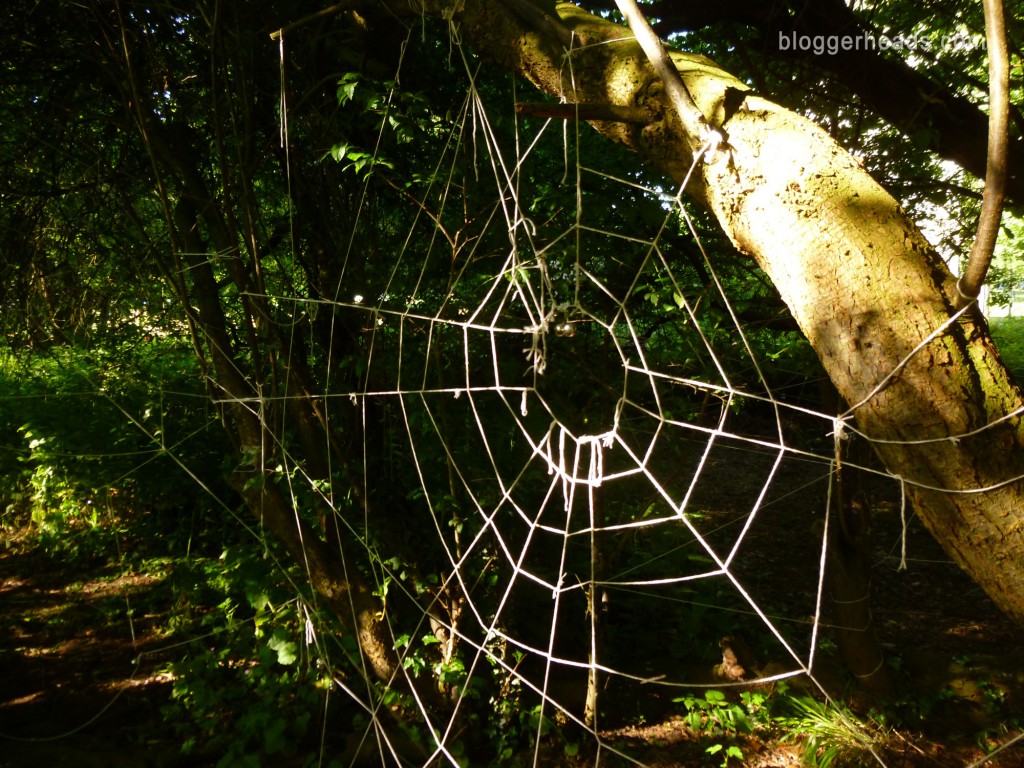 4. Turning problems into opportunities
You will find as you build your web that the variations from tree to tree make it difficult to create a 'perfect' web. You shouldn't worry about this too much, as your web needs to have at least one gap big enough for a person (or small person) to pass through, and it is going to have to be near(ish) to the ground, where most of your problems will occur.
(Your little grove of webs will also look spookier if your webs are a bit tatty, so don't worry about the odd error or bit of broken string… it only adds to the drama.)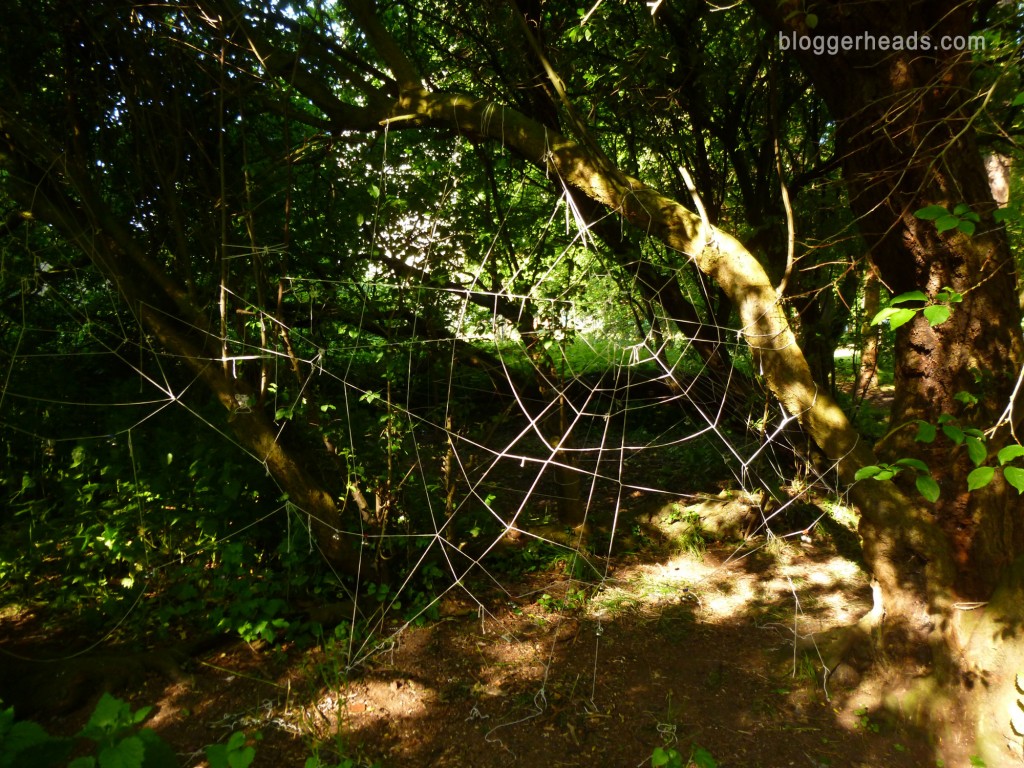 5. The bells! The bells!
Every boot sale I go to, I keep a sharp eye out for the stalls where they're selling baby toys with jingle bells attached to them. Then I detach the jingle bells and add them to my kit.
I've found the easiest way to make bells suitable for traps is to thread a bell onto each arm of a small to medium 'foldback clip', but sometimes I will leave large toys intact for immediate attachment to the larger rope webs (see below).
Foldback clips last for ages, you can thread bells right onto the arms once you detach them, and you can buy them in the dozens for next to nothing if you don't already have a whole bunch of them stinking up your stationery cupboard.
If your web is taut, you can clip bells almost anywhere, and any significant contact with the web will set it off, but to make your obstacle course more challenging, you'll want to hang at least one set of bells in each gap of your web (i.e. so the person passing through that gap has to be very careful not to touch these bells at all).
6. Whistles
I typically run the course with a referee pacing the runner, keeping an eye on proceedings and letting out a short blast on a whistle whenever a bell (or other alarm) goes off. This makes it easier to keep score from the start/finish line. A penalty of 5 seconds for each alarm set off usually works out best, but you can go to as little as 3 seconds per if you think you can handle the maths. Attach your whistles to lanyards, or they will go missing.
7. Bells & whistles
My kit has been growing over the years, and I've accumulated gadgets designed to overcome the usual problems, and you might want to think about getting a couple of the following yourself (assuming you can get them dirt cheap like I did by keeping an eye out at car boots).
If there are gaps that are too wide to string a web, I usually run an infra-red 'shopkeepers' beam that they need to jump over or crawl under as best they can without breaking the beam and triggering the doorbell-style alarm. Two of these beams in a row make a great obstacle if the first one is so low you have to jump it and the second is so high you have to crawl under it: just picture how difficult it is to decelerate after the jump before you have to crawl carefully under the second beam.
On a recent camp, we had a problem with stagnant water chewing up valuable real estate, so we ran the course up to its edge and used motion-activated sound players that allow you to record your own warning message. Everybody who reached delicately through the a special web to 'ring Shrek's doorbell' was suddenly surprised by Shrek yelling in their ear ("I said get ooot of mah swamp!") and again behind them when they ran to the next web ("Yeah, you better run, donkey!").
I've also toyed with Yoda (do the voice I can, hrmm?) and a few Harry Potter references because the concept of giant spiders in the woods triggers something very specific in most young people today (I paraphrase, but "I would like to remind you all that the Forest in the grounds is out-of-bounds to students who do not wish to die a gruesome death").
8. Added difficulty: McGuffins
I like to add a 'McGuffin' to games when things get too easy (i.e. dull): this is an object that exists solely to make the game more interesting and move things along. I have couple of motion-detector toys that go off if they get jiggled around too much, so the course can be made more challenging simply by requiring that every runner carry one (i.e. they have to get through the course without setting it off). There's also a very common velcro bracelet for babies with jingle bells on it, and I have adjusted several of these for older/larger humans: this essentially requires the runner to take the course on in slow motion, which is extremely tough on your core (you have to engage in a series of contortions and hold them for much longer than you would if simply slipping through a gap at speed). There are also your natural everyday body tremors to deal with. (Ah, you didn't know about them, did you? You will.)
There's also a blindfold or two in my kit and one day I hope to own a tambourine, because that would be hilarious to watch.
9. Rope webs
If you want to build a giant web out of rope or baling twine (pictured) instead of string, you will need to use some old trampoline springs or similar on the anchor points of almost every radial thread, because this is the only way to keep the tension up on this scale. A giant rope web to complement your grove of string webs makes a great centrepiece, and an excellent start and/or finish line that is a challenge in itself.
It is on this point that I will say that – with or without a rope web – you want to build your course in a circuit, so the start line is also the finish line (or only a short distance away).
10. This works best as two activities, not just one
If you take a peek at the main box for building webs, you will see multiple balls of twine and multiple pairs of scissors. This is because I prefer to run this activity in two parts:
Part One is building the course in conjunction with young people. I take them onto the site and talk them through any opportunities I see, and where I think the course might run. Then I open it up to ideas, and finally we mark out our agreed course and build. Not only do young people like to build their own webs, but some invest even deeper in the concept to the extent that they are planner/builders, adding difficulty and ingenuity to their own obstacle course concepts as they go. Sometimes this happens with individuals, often it happens in teams; it's invigorating to watch. Time-permitting, I allow for extra building after we have run the course once or twice, because fine-tuning brings out these same qualities all over again.
Part Two is running the course, and it is here you reward young peoples' desire to be the grown-up and take charge. You will find plenty of young people volunteering to be referee, mainly because they get to use a whistle. Like a boss.
You'll also need a stopwatch, and a large 'blackboard' (i.e. some old plywood with a few coats of dark-coloured matt or satin paint). This is where you record the fastest time(s), in real time, right on the start/finish line. It adds spice to the feeling of competition in the air.
That's about it. I know it's not a full-on instructable, but you're a capable person, and I'm sure you'll work it out in your own way. Do get in touch if you have any questions… or, even better, if you know how I can get myself a job doing this all the time, instead of on occasional weekends.
Cheers all.
A reminder: We will be building and running an obstacle course course just like this one at the Byline Festival from 24th – 27th August 2018 at Pippingford Park. You can buy tickets here.
–