This entry was posted on
Sunday, December 14th, 2003 at
10:40 am and is filed
under Uncategorized.
Bloggerheads was born at 10:02 on Friday, December 14, 2001. On this date last year we crunched some numbers and looked at what had been achieved. This year, we get to do the same and run some comparisons:
Number of Posts
2002 – 2,375 posts, approx 8-9 posts each weekday, 1.61MB of raw .TXT data

2003 – 3,055 posts, approx 10-11 posts each weekday, 3.11MB of raw .TXT data
A few more posts, but almost twice as many words by the looks of things. The blog began as a collection of throwaway links and/or comments, but has become a lot more serious(ish) as time has gone by.
Number of Images
2002 – 762 photoshopped images

2003 – 379 photoshopped images
I'd like to think this has to do with a quality/quantity decision on my part, but in reality it had a lot to do with me being modem-bound for 6 months of the year (this makes the necessary image-surfing very time-consuming). Still, the Star Wars Photoshopping Project provided some solid therapy during these difficult times. It also attracted 45,456 unique visitors and earned the top spot for the search query 'photoshopping'. Tucked in just under that result is my main photoshopping collection, which contains a number of distractions and the small body of work I'm most fond of; the 4007th Project.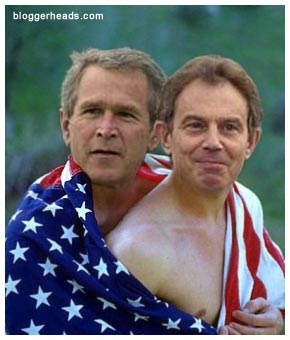 I suppose if I had to pick an image of the year, it would be this one of Bush & Blair, as it tells the story at a glance, has been shown all over the web and has been used on protest placards in the UK, Australia, Japan and America. A close second would be the image of Alastair Campbell, released about an hour after it was announced that a body had been found that matched the description of Dr David Kelly.
Number of Visitors
2002 – 101,302 unique visitors to the core weblog

2003 – 294,442 unique visitors to the core weblog
On an average weekday, the core weblog reaches 1100-1500 people. When a big project is on, this can rise to 15,000 visitors in one day. Very few people visit over the weekend, because most people view the blog from work and weekend bloggage almost never happens (one good reason to post this today instead of yesterday). The Army of the Core Faithful (visiting every weekday without fail) has risen from 90 or so to well over 200. (If you are one of these people, be warned that I have surreptitiously planted a keyword into your mind that – when spoken or blogged – will cause you to go forth and do my bidding without question.)
The usual peaks remain in place; one at 09:30 GMT when the bulk of bloggage goes live, and one just after 13:00 GMT when lunchtime kicks in here in the UK and folks start to wake up over in America. It's also interesting to note that there have been over 500 visitors accessing the site via the gsi.gov.uk or parliament.uk servers (with the bulk of these visits taking place during the Tim Yeo incident).
The biggest referrer by far is Google (with the most popular search query being 'mustard man', closely followed by a series of queries relating to Tony Blair's email address and then 'star wars'). Fark.com and B3ta.com follow. In all, there were 10,782 websites that sent traffic this way in 2003.
A few campaigns and fun pages began during 2002 (Can Weblogs Reach Ronald Scelson? reached 16,994 people), but nothing really outdid the M*A*S*H Quiz, which just kept on ticking over to attract a total of 45,231 people in 2002. This year, the M*A*S*H Quiz only reached 37,788 people.
However, during 2003, Bloggerheads went onwards and upwards (and forever twirling, twirling, twirling at windmills) with the following experiments, activities and adventures:
Projects, Experiments & Campaigns
JPEG Baby – A Long Song For the 21st Century

93,745 unique visitors

This was an experiment designed to show that a web-hosted flash show was the best way to promote a musical track. Despite being an English-language song (with animation based on these same English-language lyrics) it attracted links from all over the world and – at the peak of link activity – was actually the top search result for the generic search query 'love song' (it currently nestles in at 9th). Point proved, I would think.
Tony Blair's Email Address

51,946 unique visitors

This campaign actually started in 2002 and only reached a few thousand people during that year, but as better and better search results started coming in and interest grew in the later stages (where I was pretty much ropeable and producing pornographic images of Mr & Mrs Blair) it finally drew some impressive numbers – and a result! The campaign was hijacked by Conservative MP Tim Yeo (who continues to pay the price) and my specifications were ripped off by the Downing St IT team, but what really counts is that, with the support of your good selves and two willing MPs, it finally made this publicly accessible email facility for Tony Blair a reality. The campaign also led to my meeting Tom Watson, and the development of the first genuine weblog of a British MP (see below).
Bare Your Bum At Bush

50,780 unique visitors

Part of the Can Weblogs…? experiment that asked; Can Weblogs Chase Bush Out of Britain?, this campaign showed – well ahead of any official announcement – just how welcome Bush would be on these shores. Perhaps not surprisingly, a great deal of link support came from America (and, as a result of overall linkage, this page is still the No.3 search result for the single word 'bum').
Chasing Bush (offsite)

122,749 unique visitors

As plans for Bush's state visit developed and needs changed, the experiment moved on to an emergency first-project for the passive resistance portal myself and a few other willing bloggers were cooking up following the heartening success of the Out Of Order Project and the data I'd collected on the Humanity vs. Anarchy Project. Rich Wild (of FunJunkie fame) deserves most of the credit for bringing the facility into being in record time (and keeping it afloat wherever possible in the face of major DoS attacks) and kudos should also go to the volunteer moderators Johan & Mirjam, Jez, Greenfairy and BigDaddyMerk who so bravely faced the wrath of right-wing extremists, tweaked the nose of terror and chewed through the side of a ship to escape the dreadful spindly killer fish. Interwebnet has since moved on to the next project – Guantanamo Bay Lock-Up Day – and has a list of future targets that should keep us busy well into the New Year.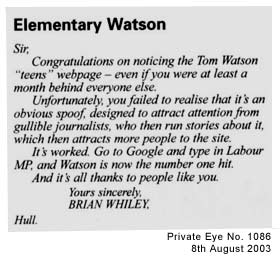 Tom Watson (offsite)

approx. 125,000+ unique visitors

Tom ran an online diary of sorts before we met, but it was hidden behind frames and his personal entries weren't archived. His upgrade to Moveable Type and entry proper into the weblog community did not go unnoticed. In fact, the attention-getting Teens page was – I'm sure – surplus to requirements. Still, it was a lot of fun, and managed to sucker The Guardian, The Times, The Financial Times and even Private Eye. Amusingly, it also led to Tom getting several abusive/sincere emails from marketing types, assuring him that he needed some serious help when it came to communicating with today's 'switched-on' audience.
One of the main problems Tom faced before was sharing a name with a famous golfer and being difficult to find in search engines as a result. Now, according to Google, he's not only the most important Tom Watson on the Internet, he's also the most important Labour MP.
Even more impressive – to me, anyways – is the highly visible precedent set by Tom, resulting in a number of other MPs taking similar personal and genuine approaches. A pity, though, that American polticians have cottoned onto it without really getting it. (Three days after Tom made his first post, former senator Gary Hart made his, but things started to go downhill on that side of the pond when the majority of US publicity went to Howard Dean, who mostly has staff blog on his behalf. Wesley Clark followed suit, as did George W. Bush. These are not genuine weblogs by politicians. They are, at best, community blogs by supporters and/or glorified press centres.)
And A Few Words To Close…
Oh, I also managed to get a little bit of work done.
However…
I failed – yet again – to make the front page of a broadsheet. The best I managed this year was Page 2 of The Independent – where I was wrongly identified as a member of the CND…
I didn't finish my first novel. In fact, it's been sitting on the back-burner for so long that it's starting to desiccate. No matter. There are more important things in life than creative wank – and I've got a new SEO book in mind that should keep me busy for a while.
I didn't write a top ten single – but would regard JPEG Baby to be a significant step forward. Now I just need to track down that damn elusive Elvis impersonator or someone willing to take on the Top Secret Pop Music Project I've been quietly gestating for the last 10 years.
Oh, and I still haven't successfully engaged my universal micropayment solution. Yet.
Finally, to finish up the post and round off the number crunching, I'd love to be able to list the number of people who've started blogging (or have returned to blogging) because of stuff going on at Bloggerheads, but to do so incorrectly and/or without permission is – I think – a little bit off. So, if this is you, and you don't mind being listed as such for future reference, please get in touch today and I'll start a list under this line:
————
Tom

Al

Russ

Rich

Martin

James

Tom

John

Steve