This entry was posted on
Wednesday, December 8th, 2010 at
12:36 pm and is filed
under Humanity, Old Media.
Please join me as I mark the 30th anniversary of John Lennon's death by observing the tabloid scum of the day feeding off his corpse: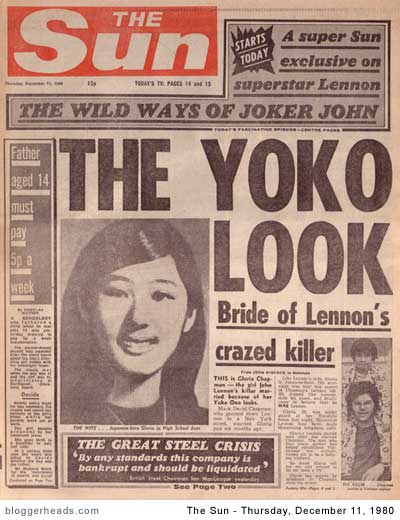 The Sun – Thursday, December 11, 1980
Front Page: Red-hot bride-of-the-monster action.
Inside: A super Sun exclusive about the superstar, by Don Short "the man who knew his secrets" because he "travelled with John Lennon and the rest of the Beatles" in the 60s. It is not specifically mentioned that he did so as a Daily Mirror journalist, but a clearer picture of Short's true relationship with Lennon does reveal itself in the caption of this awkward image that is posed if not composed, plus Short's tale of an attempt to be nearer to his 'friend' by climbing the back wall of the Beatles' castle accommodation and "into an upper suite with lattice windows":
For those in any doubt, here are some revealing mentions of Short by the Beatles themselves, as they clearly describe their attempts/intentions to keep their secrets away from this person:
We still didn't know anything about doing it [LSD] in a nice place and cool it and all that, we just took it. And all of a sudden we saw the reporter and we're thinking, 'How do we act normal?' Because we imagined we were acting extraordinary, which we weren't. We thought, 'Surely somebody can see.' We were terrified waiting for him to go, and he wondered why he couldn't come over, and Neil [Aspinall], who had never had it either, had taken it, and he still had to play road manager. We said, 'Go and get rid of Don Short'… – John Lennon (source)
I felt this bad vibe and I turned around and it was Don Short from the Daily Mirror. He'd been hounding us all through the tour, pretending in his phoney-baloney way to be friendly but, really, trying to nail us. – George Harrison (source)
These accounts make it very clear that Short was allowed to play the friend, but was never trusted as one.
Sunday Mirror – Sunday, December 14, 1980
Front Page: Grieving May Pang finds comfort with her pet cat and a front page exclusive interview about her 18 month affair with Lennon (from 1973 to 1975).
Inside: I'll spare you the details. (Summary: there aren't many.)
The Sun – Monday, December 15, 1980
Front Page: A celebration of a moment of silent dignity in memory of John Lennon, interrupted only by OMG, THE FACE OF HIS KILLER! EXCLUSIVE!
Inside: Don Short tells the story of John Lennon's divorce from wife Cynthia and his great love affair with Yoko Ono, but runs out of what he can pass off as first-hand material (statements made/passed to himself or press generally) about halfway through. Perhaps as an attempt to make up for this, he also offers us sidebar news of a 'secret sex pact' between the Beatles (which amounts to an alleged agreement not to sleep with each other's partners).
That scraping sound reminds me that we've been at the bottom of the barrel for longer than is healthy, so (for now) I bid you farewell and good tidings:
A Merry Winterval to all!