This entry was posted on
Monday, November 14th, 2011 at
7:07 am and is filed
under Christ…, Tories! Tories! Tories!.
"Do not spread false rumours, and do not help a guilty person by giving false testimony." – Exodus 23:1
For several years now, Nadine Dorries has been using invented and distorted accounts of her circumstances both publicly and privately to mask her corruption to and make false allegations of harassment/stalking to discredit and frustrate those who dared to investigate it.
To get the meatiest fuss out of the way first, two of the bigger secrets she tries to hide with these lies are as follows…
:: A series of increasingly desperate obfuscations about her expenses, primarily to do with claims made against her constituency property and payments made to a close friend & neighbour.
:: Repeated attempts over the years to mask the involvement of Christian fundamentalists* in her anti-abortion campaigns – that she now pretends are 'pro choice' campaigns – in an ongoing mission to help this religious group lobby secretly for changes to the law that suit their agenda.
When pressed for details at about this time last year, Nadine Dorries claimed to have reported four stalkers** to police and eventually named me as the 'worst' stalker, if not the 'leader' of a gang of stalkers (sometimes extending to all of Twitter).
Now, this is not an easy or pleasant accusation to endure in the best of circumstances, and I've experienced the added joy of having to deal with a vigilante element that Dorries was knowingly stirring up, but this situation has put me in a unique position that allows me to establish the truth, and clear everyone who has been accused of stalking this MP.
Onwards to that detail…
In October 2010 Nadine Dorries told the public that she lied on her blog about the amount of time she had spent in her constituency not in order to deceive her constituents/association about her level of commitment to the area (as she told the Parliamentary Commissioner for Standards) but instead because – she claims – she was specifically advised by police to tell little white lies about her whereabouts in order to throw physical stalkers off the scent (more).
This was a complete lie. Nadine Dorries has no history of being physically or even electronically stalked, ever. Instead, it has been confirmed by Bedfordshire Police that Dorries uses the word 'stalker' to describe bloggers and other critics. And from here, I'm going to let Dorries herself repeatedly confirm that same point for me.
The following is an extract from what appears to be the first complaint by Dorries to local police about any stalking threat; a letter Nadine Dorries hand-addressed to the Chief Constable (!) of Bedfordshire Police in July 2010, a couple of months after the hustings meeting at Flitwick where she told the audience an investigation into her stalker(s) was already in progress.
I have obtained this letter and other documentation from Bedfordshire Police through a subject access request under the Data Protection Act. There is further data to come from the London Metropolitan Police. I made a similar request to the Parliamentary office of Nadine Dorries, but she has defied the ICO on the matter, and portrayed my data request as vexatious and a waste of time. She does this while claiming to hold "vile, abusive messages" from me that she won't show anyone, not even me.
There are only a few documents of key relevance, but there's a lot in them, so please excuse my addressing some if not all of these documents in parts.
(Tomorrow: Dorries' take on the Flitwick event and her accusations against blogger humphreycushion.)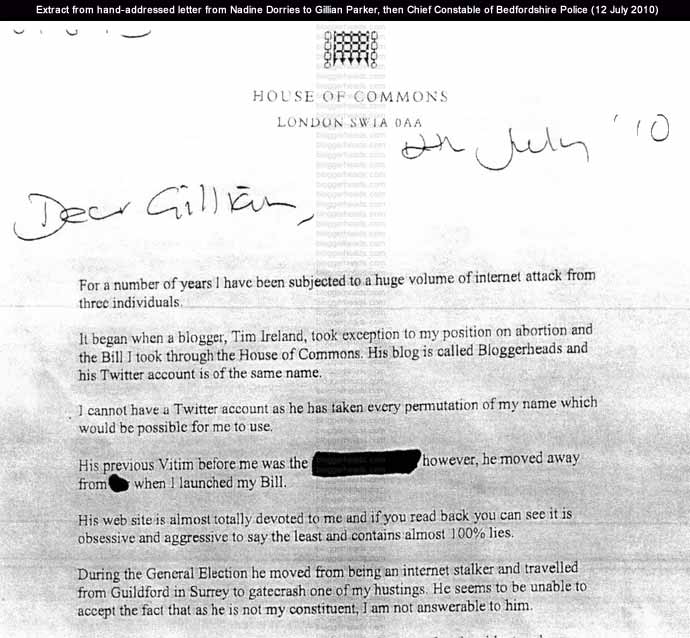 1. It is true that Dorries first earned my attention while expressing her opinion on abortion. I watched her make a false accusation against a critic right before she claimed a 21-week-old foetus had punched its way out of a womb and misled Parliament alongside her secretive associate Andrea Williams. I dared to blog about such events. Shocking, isn't it?
2. I have ONE account in the name of 'Nadine Dorries', and Dorries knows this. She has also seen this confirmed by authors of the other accounts using her name for a range of satirical vehicles. She also knows my and their use of this account name (and her name) is entirely legitimate. Even today she pretends it's something it isn't so she can present it as something that is not legitimate, and perhaps illegal.
3. I will write about the other 'Vitim' at a later date, but Dorries is having herself on here.
4. Having been accused of stalking by Dorries at a public event, I blogged about it and tried to get to the bottom of her claims that I had stalked others, that I had sent her "vile, abusive messages", and that a police investigation was in progress. Even then my blog was not 'dedicated' to her and I invite you to judge this for yourself; May 2010, June 2010, July 2010. Sadly, this letter is not an isolated example of Dorries misrepresenting a reaction to an accusation of stalking as evidence of stalking.
5. I reject any suggestion that what I write is "almost 100% lies" or lies in any way. Dorries is playing the same tired old game used by Iain Dale; accuse your opponent of lying/libel, and when asked for evidence, wave a hand in the general direction of their website. I work assiduously to be accurate, and even if you want to cast me as unfair or incorrect, at least you have the opportunity to inspect the evidence and subject it (and me) to scrutiny. Not so with Dorries. She rarely portrays evidence accurately on the odd occasions she relies on any, and she shuns scrutiny to such an extent that she's left Twitter in a huff twice now, and disallowed comments on her 'blog' since 2008. The accusation of lying is especially insulting from someone who admits to using "70% fiction" on her 'blog' before changing her story and claiming she meant 30% fiction, and then changing her story again to say that she really meant no fiction at all, if one didn't count the special lies she says the police advised her to publish to avoid the imaginary stalkers. FFS, even at this relatively early stage she was already telling lies to cover up the lies about the lies she told.
6. It is clear from this letter that Nadine Dorries defines my conduct towards her from March 2008 up until May 2010 as a criminal act she describes as "internet stalking". I not only reject this, I can easily show that the police rejected it, and that Dorries doesn't have a leg to stand on legally or morally. I can't say more than 'more to come' right now without ruining any of the lovely surprises in store.
7. Let us assume for a brief moment that Dorries has a point about my not being a constituent; she has endorsed a harsher web campaign against a personal/political opponent based on little besides malice and run by an associate of hers who was not a constituent of the MP concerned. "He's not a constituent" doesn't hold water even if you accept the weak argument behind it.
8. Who does she think she's kidding with this 'not a constituent' nonsense anyway? All MPs are answerable to the electorate as a whole, especially when it comes to issues of conduct, and definitely when they campaign on the national stage and lobby to change laws as Dorries does.
The accounts of physical stalking I will address in upcoming posts, but the short version should hold you for now; no stalking took place at any time, and Dorries is imagining things where she is not making stuff up.
Dorries isn't being internet-stalked or huge-attacked or death-threated or anything like that. She is just an extraordinarily self-important liar who has been digging a deeper and deeper hole for herself.
More data tomorrow.
–
(*Not hyperbole, folks. Genuine fundamentalists. People who describe themselves as fundamentalists.)
(**The four stalkers are three bloggers… and one big surprise. It is not a journalist, as previously thought. Details in an upcoming post. You're going to love it. The sense of entitlement is off the scale.)
–