photoshopping - star wars - animations

Vintage Star Wars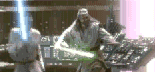 Qui-Gon Jinn and Obi-Wan Kenobi vs Star Wars Kid.
You can see more of these here.




Want more? A very special animated treat hides inside Star Wars: a letter to George Lucas.




© 2009

Comments? Requests?

Get in touch via Bloggerheads.

This site should display correctly in most browsers at a range of monitor resolutions.